Rescue kittens bring joy to seniors
Rescue kittens bring joy to seniors
December 19, 2016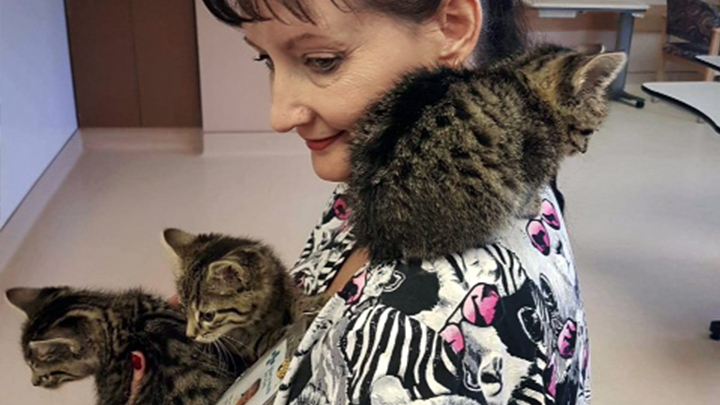 Long-term care residents at Didsbury Hospital purr-fectly content with wee furball friends
Story by Laura Manuel; Photo by Samantha McConnell
DIDSBURY — One glance at Helen Little's smile is proof that happiness is a seven-week-old kitten purring contentedly on the lap of this long-term care resident at Didsbury Hospital. Credit for this much-appreciated feline companionship, now enjoyed by White and her hallway neighbours, is due to a partnership between Didsbury Hospital and the local Tails to Tell Animal Rescue Shelter.
"Many studies show how animals reduce feelings of anxiety, depression and pain," says Nicole Brander, Recreation Therapist at Didsbury Hospital.
The kitten visits began when Brander was working with a client who loved cats. But due to the physical limitations brought on by his advancing ALS (Amyotrophic Lateral Sclerosis), he no longer had the mobility to pet and interact with animal visitors nor the cat that permanently resides at the hospital.
"We have a resident cat, but she is trained to not jump on laps," adds Brander. "That's when I started to investigate kitten therapy."
Kittens 6-10 weeks old are considered ideal for animal therapy, because they tend to stay on a person's lap and enjoy a good cuddle.
To test the idea, Brander borrowed a neighbour's kitten for the day. Due to its young age, the kitten was content to curl up on her ALS client's lap.
"It was a success, except that the kitten started to grow up," says Brander.
The Didsbury Veterinary Clinic suggested she reach out to a local animal shelter for a more long-term solution. The folks at Tails to Tell — happy to support a kitten-therapy program — soon agreed to bring kittens to the hospital every Wednesday.
"It's a win-win … the kittens are socialized and it's advertised they're looking for permanent homes," says Brander. "Residents, family members and staff members all look forward to kitten Wednesdays."
The little furballs also help to improve quality of life for many residents.
"Many of our residents are in constant motion, but a kitten calms them," says Brander. "Some residents have difficulty hearing, so they struggle to participate in certain activities. With a kitten, they don't have to hear anything. The kitten is the thing that brings a smile to their faces."
What began as an activity for one patient has now spread across to the entire facility. Staff also enjoy having the kittens purring around the hospital, and seeing the pleasure they give residents. "Staff from all over the hospital visit the kittens," says Brander. "Nurses joke that they will always take a Wednesday shift."
The long-term care unit at Didsbury Hospital is a small, 21-bed unit. With its rural setting, many of its residents hail from farming backgrounds, which makes animal therapy a good fit with their interests.