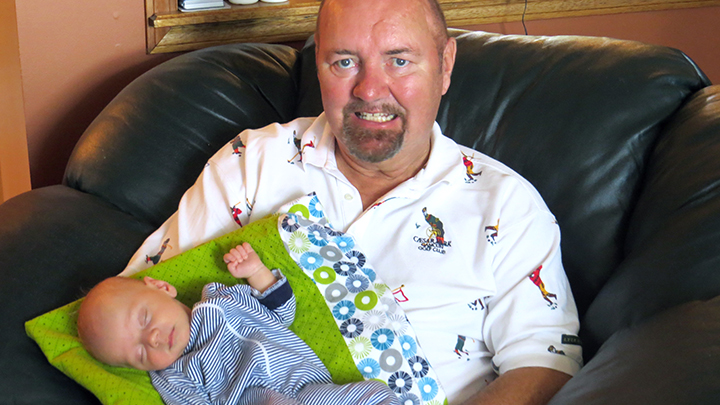 One-two punch of chemo and radiation helps certain brain-tumour patients live 5.5 years longer, study shows
Story by Kristin Whitworth
EDMONTON — The combination of radiation and chemotherapy helps adults with brain tumours live five-and-a-half years longer than those who receive radiation alone, according to a new research study from Alberta Health Services (AHS).
This encouraging news stems from a multi-centre international clinical trial that took five years to enrol more than 250 patients with low-grade glioma — a brain tumour that starts in the brain rather than spreading to it like other cancers.
The study represents one of the largest improvements in average survival ever published in the history of glioma research.
"I am not aware of any clinical study in glioma that has produced such a dramatic improvement," says Dr. Albert Murtha, a Radiation Oncologist at the CCI who led the trial in Alberta.
"This study took an amazing amount of work, time and dedication by several members of the Cross Cancer Institute (CCI) brain tumour group, but fortunately resulted in an equally amazing result."
Gliomas are believed to start in the brains glial cells, which normally support the neurons. 'Low grade' refers to the aggressiveness of the tumour, which grow more slowly than high-grade gliomas.
However, many low-grade gliomas, over time, transform into high-grade gliomas. Low-grade gliomas tend to occur in younger adults (ages 30 to 40) while high-grade gliomas occur more in older adults.
"It has been almost 18 years since the study opened and the results are now finally mature enough to publish," says Dr. Murtha. "This is because patients in both arms of the study did very well. It is very unusual to have patients with brain tumours follow up in a clinical trial over 16 years later!"
The trial was randomized with half of the participants getting radiation therapy alone and the other half receiving combined radiation and chemotherapy.
Sixty-two-year-old Leonard Blatz, diagnosed with a brain tumour in 1999, enrolled in the trial in 2002. Although Blatz was randomly placed in the group that only received radiation, he believes the study added years to his life.
"I have no doubt that participating in the study is what added longevity to my life," says Blatz. "I am so grateful to Dr. Murtha for keeping me on the study."
The Camrose resident, who drove to the Cross Cancer Institute in Edmonton every six months for an MRI, credits his frequent scans and visits with CCI physicians for his longevity to date.
"They told me I would be lucky to make it five years, but I fooled them and added another seven to that!"
Of the 251 patients enrolled, 55 per cent, unfortunately, died during the analysis phase. The median survival in the combined treatment group was 13.3 years. Many are still alive today, more than 18 years since the study launched.
This establishes a new standard of care throughout the world for adult patients with low-grade gliomas. Ongoing work is being done to see if researchers can better identify the patients who are most likely to benefit from the combined treatment, and to better understand the genetics that contribute to the development of gliomas and how they respond to treatment.
"None of this would be possible without the patients who volunteered for the study, and who continue to come to the CCI for their follow-ups over 16 years later," says Dr. Murtha.
Blatz still receives treatment for his cancer, and things are looking up — his tumour continues to shrink.
"I feel really good," he says. "My doctors at the Cross take real great care of me — so I figure I will surprise them with a few more years yet."
The cooperative group trial began under the Radiation Therapy Oncology Group (RTOG) — now called NRG Oncology at the CCI — and was funded by a grant from the National Cancer Institute.
Study results were recently published in The New England Journal of Medicine.