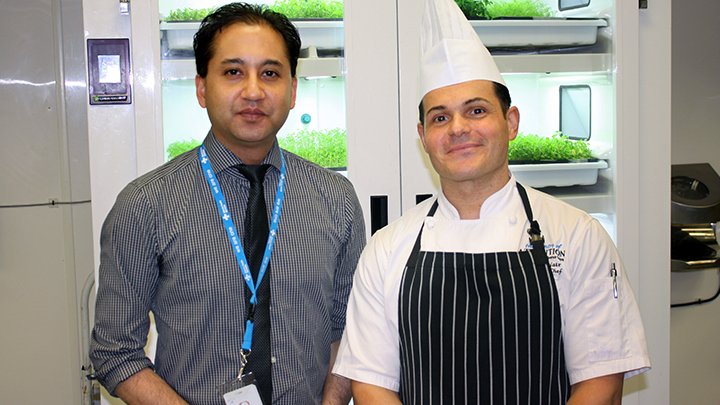 AHS partners with Food Bank and community chefs to prevent waste and feed the needy
Story & photo by Kirsten Goruk
EDMONTON — If you've ever thrown a dinner party, you know it's always a good idea to make a little extra. But when your party is for 1,000 people — and you have leftovers for 100 — it gets a little trickier.
That's the thinking behind Second Helping, an ongoing partnership between Edmonton's Food Bank and Alberta Health Services (AHS) that prevents waste and puts nutritious meals on the table for those who need them.
Second Helping is a prepared and perishable food recovery program that accepts wholesome surplus food donated by cafeterias, restaurants, hotels and institutions and delivers them to agencies supported by the Food Bank.
"I think it's great that AHS can advocate for and support these kinds of programs," says Michael Khan, Environmental Public Health Officer for AHS in Edmonton Zone.
"The Environmental Public Health team's job in this case is ensuring food safety. Agencies who wish to receive food from this program must hold a valid Food Handling Permit. If they don't have one, an inspection will take place to assess if they meet the requirements. Once approved, follow-ups are conducted to ensure compliance,"
Khan also regularly visits the Food Bank, where the donations are stored, to make sure the food is labeled, stored and properly sealed for when recipient organizations pick it up.
"AHS has been working side-by-side with us to ensure all types of food are handled appropriately," says Tamisan Bencz-Knight, Manager of Strategic Relationships & Partnerships with Edmonton's Food Bank. "We couldn't offer Second Helping without their support and we're so glad for it because we see the positive impacts of this program every day."
Active donors to the program, launched in 2009, include the Shaw Conference Centre, Northlands and Rogers Place.
Serge Belair, Executive Chef at the Shaw Conference Centre, says the program aligns perfectly with the convention centre's brand promise of sustainability and community impact. He estimates they donate 6,600 lbs. of food each year.
"We're proud to be the first organization in the City of Edmonton to have signed up for the Second Helping program," says Belair. "As part of the Shaw Conference Centre's comprehensive waste-management program, we try to ensure nothing is wasted. We are thrilled to be working with Edmonton's Food Bank and AHS to ensure those in need receive our leftover food."
Since 2011, member organizations have donated about 180,000 lbs. of food. Recipient organizations, such as Hope Mission, feed hundreds of Edmontonians in need every day.
"Having a warm meal to keep our guests full and healthy can be life or death for them," says Robin Padanyi, a spokesperson for Hope Mission.
"Being able to have a regular, dependable stream of healthy food helps our ability to serve as many guests as we do. We don't have to be as worried about where the food we need to serve hundreds of people every day will be coming from."
For Khan, the program gives him a chance to do something other than enforcement, which he finds rewarding on an entirely different level.
"In the bigger picture," he adds, "this program also helps in dealing with food insecurity and mitigating food waste. This is good viable food that would have otherwise ended up in the trash, but instead, it goes to people who really need it."