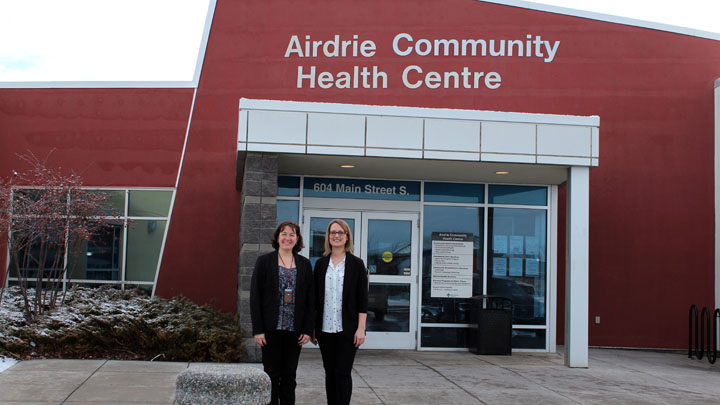 Airdrie Urgent Care is now providing round the clock health services to the community
Story and Photo by Lisa Sutherland
AHS has been working with the local community, Alberta Health, City of Airdrie, Highland Primary Care Network and the Airdrie Health Foundation to improve access to health services in the community.
"This is exciting for us, and for everyone who had a hand in bringing 24 hour health care services to this community," says Dr. Ted Braun, Vice President and Medical Director, Central and Southern Alberta. "This is a true example of the great work that's possible when we work together, with the people in the communities we serve."
Last year, AHS expanded urgent care, by adding four additional treatment spaces, bringing the local number of treatment spaces to 13.
Approximately 30, 576 patients were seen in Airdrie Urgent Care in 2015/16, 29,507 patients were seen in 2014/15, 29,903 patients were seen in 2013/14, 29,486 patients in 2013/12, 27,688 in 2011/12, 28,155 in 2010/11 and 29,383 in 2009/10.
"We've worked to create an innovative model for providing safe, quality 24-hour care at Airdrie Urgent Care," says Dr. Elaine Desnoyers, Medical Director, Airdrie Urgent Care. "This includes advanced training for staff and physicians, the addition of a paramedic to the overnight team who can assist with more complex procedures and help stabilize sicker patients who require transfer to a hospital in Calgary."
Airdrie Urgent Care provides 24 hour access to care for unexpected, but non-life-threatening health concerns, which require same day treatment. Patients coming to urgent care may arrive on their own, or be transported there by ambulance. Common conditions treated in an urgent care centre include: broken bones, sprains, cuts, asthma, dehydration, pain and infections.
Patients with life threatening conditions continue to be treated in Emergency Departments within Calgary and area.
AHS will continue to work with the surrounding communities, Airdrie Health Foundation, City of Airdrie, Highland Primary Care Network and other partners, to explore future opportunities for improving and enhancing health services in Airdrie.