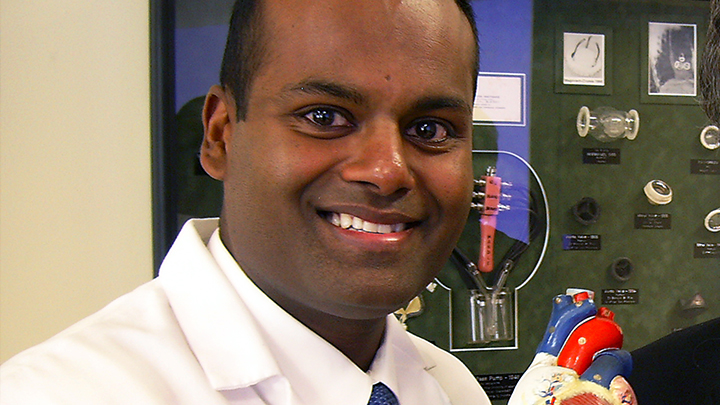 National Organ and Tissue Donor Awareness Week celebrates donors and families — and urges more sign up to meet growing need
Story by Gregory Kennedy
This is National Organ and Tissue Donor Awareness Week, an opportunity to honour organ and tissue donors and their families who have so graciously given the gift of life and better health to many individuals who needed a transplant.
It's also a week to heighten awareness around the need for organ and tissue donation and the benefits of transplantation, says Dr. Norman Kneteman, a liver transplant surgeon and Edmonton Zone Clinical Section Chief for Transplant Services with Alberta Health Services (AHS).
"This is an important opportunity each year for us to show the highest level of support for our fellow human beings," he says. "The gift of life and health is a precious one and one we can all provide to those in need — whether through a living donation of an organ or tissue graft, or through our commitment to donation after death."
Although the Edmonton Transplant program performed a record 341 organ transplants in 2016 and Calgary had a record number of local donors, more than 600 Albertans are still waiting for hearts, livers, kidneys, lungs and other vital organs.
Through the gift of life, an organ donor has the potential to save up to eight lives, and enhance the lives of 80 others through tissue donation.
But there's a surprising gap between our desires and our actions with regard to organ transplants, it would appear.
While 90 per cent of Canadians support organ and tissue donation, fewer than 20 per cent have made plans to donate. Since the Alberta Organ and Tissue Donation Registry began in 2014, less than 352,000 Albertans have registered their intent to donate.
"There's still a significant ongoing need for awareness for donation," says Dr. Jayan Nagendran, who performs heart and lung transplants at the Mazankowski Alberta Heart Institute, where he's also Director of Research for the Division of Cardiac Surgery.
"As the population that can benefit from organ transplantation grows, we're also having improved results in all areas of transplantation, making it more of an option for more patients who previously might not have been suitable for transplantation.
"On top of that, while the causes of end-stage organ disease remain prevalent, treatment for other diseases has improved," he adds. "This means patients are now living longer — long enough to develop end-stage organ disease, requiring transplantation. So the need continues to grow, and that can't be met with the current availability of donors."
Some obstacles remain in signing up to be a donor, says Nagendran, who would like to see the process simplified even further. As well, he urges more education on the issue.
At present, Albertans can go online to record their choices, or visit a Registry Agent office to sign a consent form when they renew their driver's licence, or sign the back of their healthcare card.
"People need to appreciate that to support organ donation actually requires signing up to be a donor," he adds.
Statistically speaking, for people in need of a transplant, there's arguably no better place to live than in Spain, which has the world's highest organ donation rate — 36 donors per million This compares to 26 in the USA and just under 20 in the UK. Canada lags badly behind at around 15 donors per million.
Most other countries credit Spain's high rate to its supportive infrastructure, with its many teams of hospital-based transplant coordinators who make sure no potential donors are missed and that medical staff keep donation in the forefront in their minds. As well, Spanish families have become accustomed to talking openly and comfortably about donation, perhaps because children there are taught in school about its importance.
Nagendran, who joined the Maz six years ago, says he draws his inspiration daily from "the opportunity to help patients with end-stage disease who are otherwise condemned to certain death — and providing that quality of life and an increased length of life through successful transplantation. My ongoing motivation is to improve techniques, keep working hard and innovate here in Alberta to help revolutionize how we do transplantation."
To aid in this revolution, Nagendran has joined laboratories with Dr. Darren Freed, a fellow Maz cardiothoracic surgeon-scientist, to create Canada's first ex-vivo multi-organ perfusion laboratory. Together, they're exploring technology and developing therapeutic strategies to improve the quality of donor organs, thus making more organs usable and available for transplantation.
Nagendran and Freed have also started the only portable clinical ex-vivo lung perfusion program in Canada, with two dozen successful clinical ex-vivo lung perfusions to date. Basically, if a donor lung is injured, it's placed in a special machine that keeps it alive and repairs it enough so that it can be transplanted, thus increasing the potential number of lung transplants.
On a practical level, this means people who fear, for whatever reasons, that their organs may not be healthy enough to donate, should still sign up.
For information about organ and tissue donation, and who can donate, please see Organ and Tissue Donation Overview.
Should you choose to give the gift of life, sign up on MyHealth.Alberta.ca, and tell your family and loved ones of your wishes.
"We urge each and every one of you to consider organ and tissue donation, to discuss it with your family, and to sign your donor card and register online," says Kneteman. "The outcomes of transplantation continue to improve; truly remarkable and life-saving outcomes are now the expectation. We cannot achieve these impacts without your support. Say yes to donation!"
Organ Donation: Alberta in 2016
Here's a snapshot of organ donation last year in Alberta:
There was a record number of organ donors in Calgary (34), as well as provincially (70).
The Edmonton Transplant program performed a record 341 organ transplants. A record 64 lung and 87 liver (67 deceased donor and 20 living donor) transplants were performed.
In Edmonton, a record 2,518 tissues were distributed for transplant by the Comprehensive Tissue Centre from a record 99 deceased donors.
In Calgary, a record 1,991 tissues were distributed for transplant by the Southern Alberta Tissue Program from a record 204 deceased donors.