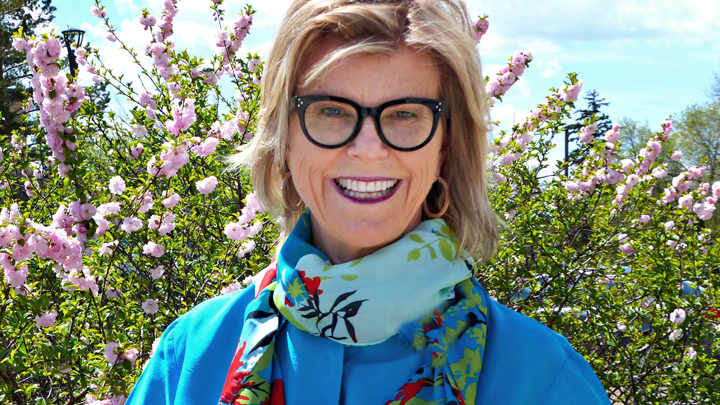 President's Excellence Award winner Isabel Henderson positively beams as she creates a culture of innovation and continuous improvement
Story by Shelly Willsey
Isabel Henderson's views on innovative leadership parallel those of Star Trek's Captain Kirk.
"I read a delightfully geeky article by a blogger for Forbes about Kirk's leadership style that echoed my own philosophies," says Henderson, Senior Operating Officer of Edmonton's Glenrose Rehabilitation Hospital (GRH) — and a recipient of the 2017 President's Excellence Award for Distinguished Service.
"Kirk never stopped learning, even when it seemed he knew everything there was to know. He surrounded himself with advisors whose worldviews clashed with each other's, and with his. He regularly went into the field to understand the challenges on the front lines. He saw his team as engaged in a poker game, not a chess game — the challenge was to play on his team's strengths, not just figure out the 'right' way to do it. And lastly, he was willing to blow up the Enterprise — in other words, to completely start over to keep moving ahead."
Henderson admits to being both surprised and honoured by the AHS award, but is quick to recognize it as a team accomplishment.
"Nothing can stop our team. Because of our team's talent, passion, and discipline, the Glenrose has become a leader in the delivery of novel rehabilitation services in our province and across Canada."
With Henderson's leadership and partnership-building, GRH saw the establishment and improvements of technologically-advanced centres including the Building Trades of Alberta Courage Centre (BTACC), one of only two Computer Assisted Rehabilitation Environment (CAREN) in Canada, the Independent Living Suite, the I CAN Centre for assistive technology, and the new Glenrose Rehabilitation Research, Innovation and Technology (GRRIT) hub.
With more than three decades in healthcare, Henderson pursues a person-centred culture of innovation, continuous improvement and accountability, always keeping the focus on meeting the needs of patients and families.
"We start meetings with a patient story. These make a difference — staff see the impact they can make in a patient's life. It keeps the focus on what's important," says Henderson.
Committed to several ongoing initiatives, using the patient perspective while improving patient flow is Henderson's next priority. She is also a strong believer in developing front-line leaders and in recognizing staff for their achievements.
"The history of Isabel has been a continuous search for improving the lives of patients and families through a dedication to positive change and striving for excellence," says Gary Faulkner, nominator and Director of Research and Technology Development, GRH. "Her lasting impact on the quality of the lives of the frail and vulnerable populations we serve cannot be overstated."
Henderson shares this year's Award for Distinguished Service with Mary Muir, Site Lead for the Stollery Children's Hospital's Pediatric Canadian Access Targets for Surgery Program.
The President's Excellence Awards recognize and celebrate the dedication and accomplishments of AHS staff, physicians and teams. Award recipients demonstrate exceptional collaboration, innovation and a commitment to quality improvement and patient care.