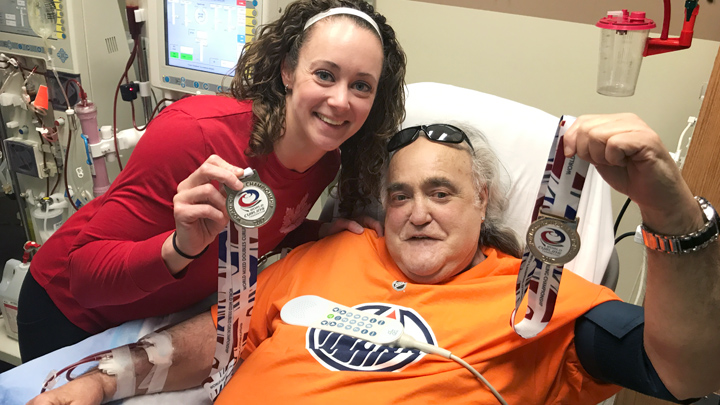 Gold-medal curler Joanne Courtney draws inspiration from her nursing role at University of Alberta Hospital
Story and photo by Sharman Hnatiuk
EDMONTON — Frank Brown can't help but tear up with pride as he relives the moment one of his dialysis nurses captured gold at the World Women's Curling Championship in Beijing earlier this year.
Joanne Courtney, a member of Ontario's Rachel Homan's world championship curling team, has been a dialysis registered nurse at the University of Alberta Hospital (UAH) since she was first introduced to the unit as a student in 2010.
While Courtney only works casual shifts during the curling season, she certainly gives patients, staff and physicians on the unit something to cheer about.
Brown was one of many on the unit who loyally watched Team Homan's journey through the nail-biting berth at nationals all the way to China in March, but the 63-year-old Edmonton man admits he wasn't always a fan of the sport. Brown didn't start watching women's curling until he met Courtney, when he started dialyzing almost seven years ago.
"I used to only watch the men, but Joanne got me right into it," says Brown. "It was awesome to watch her play while I was dialyzing and I was so happy to see her win."
Upon her return from Beijing, patients, staff and physicians on 5B1 at the UAH surprised the champion with a celebratory party, then asked her to do a victory lap of the unit with a Canadian flag.
The 2016-17 season has been a busy one for Courtney, who joined Team Homan at the top of the podium at nationals and the worlds this year. She also finished up the season with a silver medal at the World Mixed Doubles Curling Championships. Mixed doubles is an event that will be added to the 2018 Winter Olympics.
Courtney says she's looking forward to spending the off-season in her hometown of Edmonton, and picking up more shifts on the dialysis unit where she draws inspiration from her patients.
"Dialysis patients are incredibly resilient," says Courtney. "My patients help to keep me grounded and remind me that curling isn't everything. Health is the most important thing, as well as having a good attitude. Patients like Frank really embody that positive attitude."