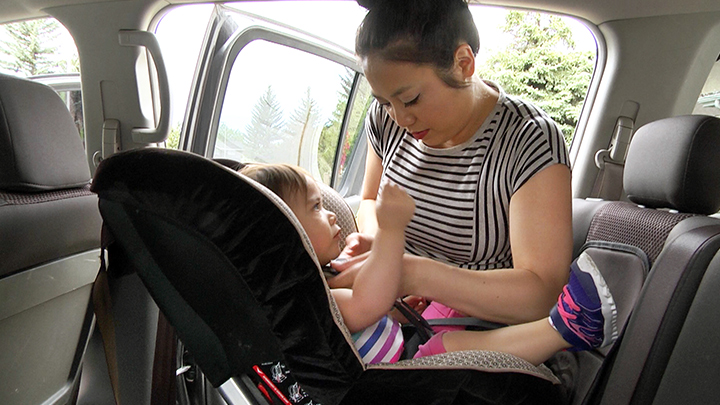 AHS tips help parents to choose and use their children's seats correctly
Story by Shannon M. Evans
As a busy mom of two kids, Susan Duff does a lot of driving — and that's a lot of time with kids in car seats, too. When she learned that Alberta Health Services (AHS) had updated its Car Seat and Booster Seat Safety Recommendations, she immediately wanted to learn more.

"As a parent, your kids' safety is number one, but there is so much information out there, it can be confusing to figure out whether you're doing the best thing for your child or not," says Duff.
"It was great for me to be able to see that AHS' recommendations were clear and readily available for me to know what choices to make for my kids".

AHS' updated recommendations are evidence-based and intended to help parents choose and use their children's car seats and booster seats correctly, for as long as possible. Changes made to the previous recommendations are noted, so that new information is easily identifiable, along with the rationale for change.

"We know that it can be overwhelming picking and using car seats and booster seats," says Nora Ansah, Health Promotion Facilitator with AHS' Provincial Injury Prevention Program. "We're dedicated to ensuring that parents have a trusted source of information for the health and safety of their family."
"We've done the research for parents so that they can be confident that current evidence is guiding the safe transportation of their children."

An AHS video featuring Susan and her kids (available here) — as well as updated YES Tests resources — make it even easier for parents to understand the guidance, and how it applies to their children. For healthcare professionals, a dedicated Q & A document is now also available online, providing support for their own discussions with parents.

"We want every car ride to be as safe as possible, every time, for every child," says Ansah. "We're here to help".

For more information on this, and other important childhood safety topics, visit www.ahs.ca/injuryprevention.