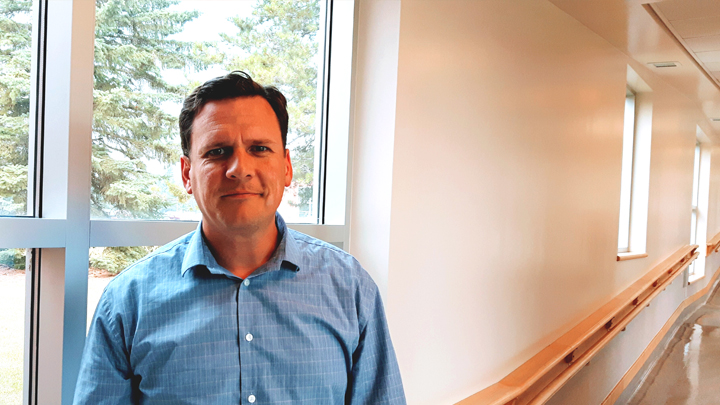 Video conferencing lets rural patients take part in programs closer to home
Story by Shelley Rattray
Opioid dependency treatment has been expanded to 10 communities throughout Central Alberta.
Alberta Health Services' (AHS) Rural Opioid Dependency Program has improved access to opioid replacement therapy in Camrose, Drayton Valley, Olds, Ponoka, Rocky Mountain House, Stettler, Sylvan Lake, Wainwright and Wetaskiwin, and most recently to Drumheller.
"Thanks to the use of video-conferencing technology we are able to provide Albertans with access to programming that normally wouldn't be possible," says Dr. Nathaniel Day, Medical Lead for the Rural Opioid Dependency Program.
"It can be difficult to access opioid replacement therapy outside of larger urban centres," he adds, "however we are able to help eliminate barriers to care by providing video-conferencing sessions between physicians and patients in remote areas."
The program began accepting patients in April and has the capacity to assist approximately 300 patients.
"Opioid dependency is a growing issue, and we are continuously is working to increase access and availability of substitution treatment," says Dwight Hunks, Executive Director, Addiction and Mental Health, Central Zone. "This program will help Albertans receive the care they need in their own community. It will help save lives.
"One of the best approaches to treat fentanyl and other opioid addictions is substitution maintenance therapy in addition to counselling and other social support services," adds Hunks. "This program will help Albertans receive the care they need, closer to home."
The program was established following the Government of Alberta's commitment to provide $3 million over three years to expand Opioid Dependency Treatment and increase access to treatment services and counselling across the province.
Since 2016, AHS has also opened a new clinic in Cardston in southwest Alberta, and a satellite clinic in Fort McMurray. More recently, an Opioid Dependency Program launched in Grande Prairie this spring.
Currently, there are now 16 clinics that treat opioid dependency across Alberta. Five of the 16 clinics are provincially funded and delivered by AHS and provide a full range of counselling and support services. A full listing of the clinics can be found on the College of Physicians and Surgeons website.
For more information about Opioid Dependency, please visit www.ahs.ca or call Health Link at 811.