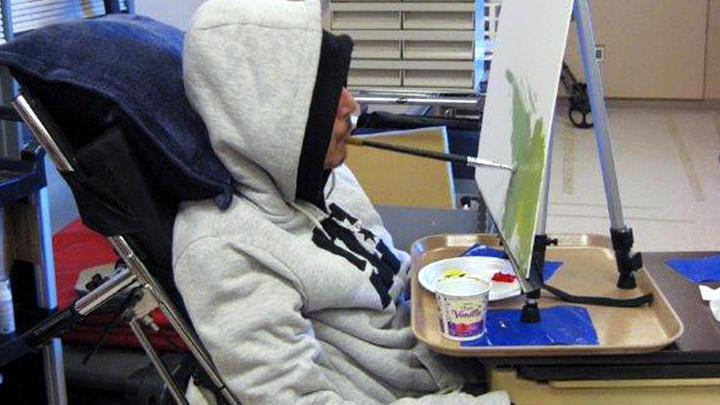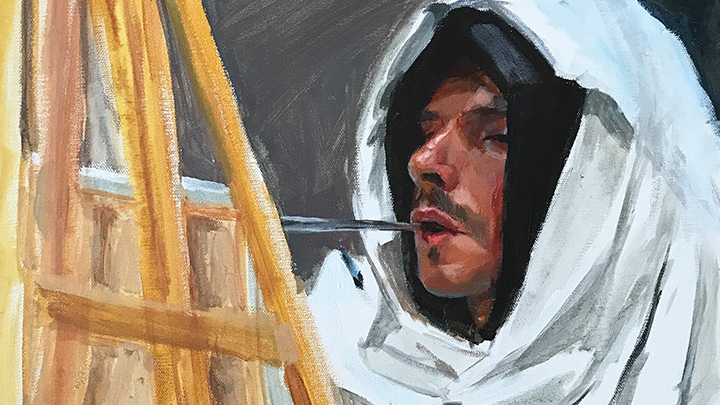 WestView Long-Term Care residents create colorful canvases with onsite artist
Story by Sharman Hnatiuk | Artwork and photo by Daphne Cote
STONY PLAIN — Brad Pfeifle has always been artistic, but he didn't pick up a paint brush until he became a quadriplegic as the result of a spinal cord injury in 2008.
Earlier this year, the 35-year-old Pfeifle, along with other Long-Term Care residents at WestView Health Centre, decided to embrace their artistic side and develop their painting skills during five hands-on classes with local artist Daphne Cote.
As a registered recreation therapist at WestView, Michelle Svarich likes to incorporate art into many of the site's therapies, but she'll be the first to tell you that art is not her forte.
Thankfully, a grant from the Town of Stony Plain let her to bring in a professional to work onsite with her patients who range in age from 34 to 86.
"Many of our residents would love to participate in classes in the community, but there are too many barriers," says Svarich. "Having the opportunity to include a professional means they can be included in the community, and have the same opportunity to learn a new skill and show off their efforts."
For Pfeifle, the opportunity to work with an artist left him hungry for more.
"I like art, and I like what I produced, but I wished there was more time," says Pfeifle. "I'd love the opportunity to spend more time with an artist and learn more about art theory or shading. I definitely want to learn more."
In June, a gallery viewing at Stony Plain Family and Community Support Services was held in celebration of the artists and displayed the works for family, friends and staff to enjoy.
Svarich says she's looking forward to growing the partnership with the Town of Stony Plain and Cote to create more ongoing art therapy options for Long-Term Care residents at WestView.
"The feedback from patients was incredible," she says. "It is so rewarding to see our patients engaged, feel that sense of self-worth and pride in their work, socialize in a safe way and gain new skills."