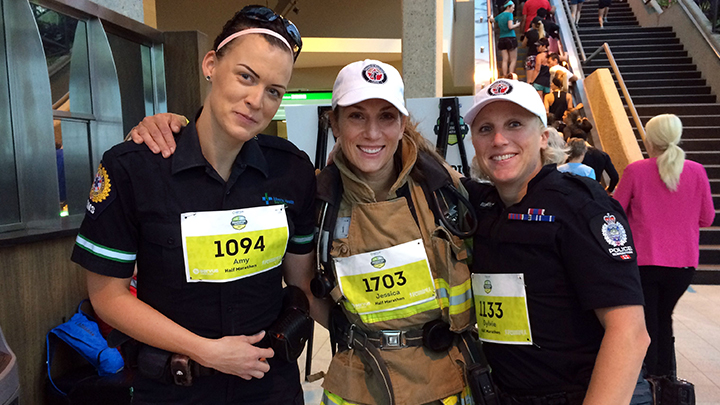 Trio of Edmonton first responders 'bulk up' to run 21.1 km for charity
Story by Shelly Willsey
Crowds lining the route of the Edmonton Marathon may have been startled to see a participant run past them in a full paramedic uniform and bright pink shoes.
No, they weren't imagining it.
Some people do crave a special challenge, especially for a good cause.
People like runner and Alberta Health Services Emergency Medical Services (EMS) paramedic Amy Benson, who was joined by two likeminded Edmonton professionals in uniform — police officer Sylvie Boy and firefighter Jessica LaMer.
The trio participated in the 21.1 km half-marathon on Aug. 20 to raise awareness and funds for Wounded Warriors Canada, a national charity that supports the mental health of Canadian Armed Forces members, veterans, first responders and their families.
"Fitness is a part of our lives, and mental health is an issue near and dear to our hearts. Words are great, but actions say so much more," says Benson. "Like a lot of health issues, running is a journey of resiliency — hitting the wall and finding strength beyond the perceived wall."
Benson is an experienced runner — and Boy and LaMer leaned on her know-how when their brains and their bodies "hit the wall" and wanted to stop at the 16-km mark.
"The crowds were amazing; no matter what area of the city we were in, downtown or quiet residential, there were people with signs, yelling and clapping. It kept us going," says Benson.
"I felt it was similar to a mental health issue — even in the times that are quiet and you feel alone, there's still someone there to support you."
Benson's uniform comprised long pants, duty belt and a ballistic vest, which added about 7 kg to her usual running attire. Her teammates each added about 11 kg of extra weight with their equipment, including LaMer's firefighting oxygen tank.
"When other runners saw us in uniform, they most often said, 'If you can run in that, then I can definitely run my race… I'll never complain again,'" says Benson.
The trio used a GoPro to film their race, and their finish, so they could later share the footage with colleagues.
"The crowds weren't cheering for Sylvie, Jess, and Amy," says Benson. "They were cheering for a police officer, a firefighter and a paramedic. They were cheering for all of us."
The three first responders — who completed the half-marathon with a time of two hours, 19 minutes — raised $12,445 for Wounded Warriors.