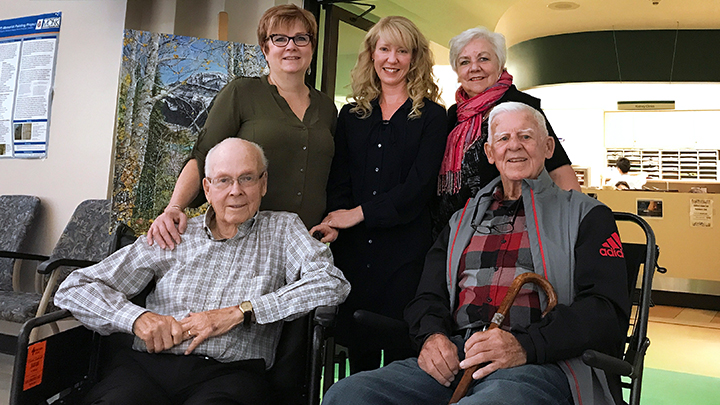 Conservative Kidney Management program treats complications, slows progression of organ failure
Story by Shelly Willsey
Like many couples in their golden years, Tom and Chris McGee love to travel.
When Tom's kidney function began to decline, the Sherwood Park couple wondered if they would have to hang up their car keys and stay close to home for Tom to undergo dialysis three times a week.
Instead, the 80-year-old chose an option that maintains his quality of life: Conservative Kidney Management (CKM).
Patients with advanced kidney failure like Tom are using Alberta Health Services' CKM pathway. Treatment focuses on relieving symptoms and improving quality of life for the frail and elderly, patients with multiple and complex health issues, and patients near the end of life.
While the pathway doesn't include dialysis, it does include all other parts of kidney care such as diet, exercise and medications to slow the progression of kidney failure and treat the complications.
"They discussed Tom's options with us right away at the clinic and he chose not to have dialysis," says McGee's wife Chris. "He didn't want to spend every second day at the dialysis clinic. Quantity is not the key thing; it's quality of life."
Tom has lab tests every month. His results go to his nephrologist and dietitian, who then review his medications and diet with him.
"The aim of Conservative Kidney Management is to help patients live well without dialysis, with a good quality of life, by focusing care on controlling symptoms and optimizing their ability to function," says Dr. Sara Davison, nephrologist with the Northern Alberta Renal Program and lead for the Kidney Supportive Care Research Group and CKM Pathway initiative.
"Dialysis may not help everyone live longer or improve their quality of life. For some frail people with lots of other health problems, the side effects of dialysis may make them feel worse and lower their quality of life. Patients have the right to choose the care that best meets their needs, values and preferences."
Patients managed without dialysis may live as long as patients who elect to start dialysis — with better preservation of physical and cognitive function, free of the burden associated with the dialysis procedure, fewer admissions to hospital, and the opportunity to be cared for in their own communities.
Typically, patients receiving dialysis visit the clinic three times a week, with each treatment taking approximately four hours. Complications can include infection, confusion, low blood pressure causing nausea and dizziness, and abdominal pain.
There's no cure for kidney failure; the treatment options are transplantation, dialysis or CKM. Dialysis is recommended for most patients with kidney failure who do not have other serious health problems. Dialysis will lessen complications of kidney failure, and may keep them healthier and alive longer.
The pathway was introduced a year ago to improve, standardize and evaluate the care for patients who choose CKM. It includes a decision aid that helps patients explore their treatment options and determine whether dialysis is right for them. The pathway also includes clinical guidelines on how to manage kidney failure and symptoms, educational materials for patients and healthcare providers, and tools such as a crisis-action plans and how to have conversations about the end-of-life.
At present, the pathway is being piloted in four outpatient kidney clinics in Edmonton and northern Alberta, with plans to expand access across the province in 2018. Since its launch, more than 200 patients have used the pathway.
The CKM Pathway also includes an interactive, web-based tool to empower families, patients and clinicians to help guide individualized care plans.
The McGees make the most of Tom's freedom and travel frequently.
"We take advantage of the time we have together," says Chris. "We're able to go to Vancouver or Jasper to visit family and friends, and not have to worry about getting to a clinic."