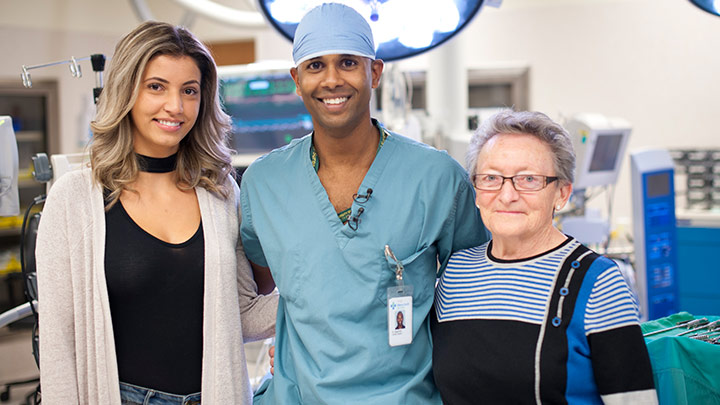 New technique makes heart repairs possible without opening the chest
Story by Sharman Hnatiuk | Photo courtesy of Mathew Martin
When Racha Kamal, 27, was offered the opportunity to be the first patient at the Mazankowski Alberta Heart Institute to undergo a minimally invasive procedure to repair a hole in her heart — rather than the traditional open-heart surgery — she was understandably nervous.
"The prospect of a smaller scar, getting out of the hospital quicker and recovering faster all sounded great — but I wished they could have had a few patient success stories before it was my turn," says Kamal.
The local woman started experiencing chest pains around six years ago. After her referral to a cardiologist at the Mazankowski, Kamal was diagnosed with atrial septal defect (ASD), a hole in the muscular wall that separates the heart's two upper chambers.
In May, Kamal opted for the less-invasive surgery; she spent one night in intensive care and three days on the cardiac surgery ward before being discharged. Open-heart surgery patients typically stay in hospital from five to seven days.
"I'm so happy I chose the minimally invasive approach," says Kamal. "I was out of the hospital faster, I wasn't on long-term medication, and my recovery was faster. I'm so glad this option is available in Edmonton."
Traditionally, surgeons cut open the chest and use their hands to hold or manipulate the heart during surgery. Using the minimally invasive approach, surgeons make a small incision through the ribs to access the heart, then complete the procedure using state-of-the-art equipment and a tiny camera.
"This technique results in expedited recovery after surgery, a shorter hospital stay, and allows our patients to return to normal activities more quickly," says Dr. Jeevan Nagendran, cardiac surgeon at the Mazankowski. "Cosmetically, patients are left with a minimal scar below the breast rather than a large incision line down the centre of the chest at the sternum."
Candidates for the minimally invasive heart surgery include patients who require an aortic valve replacement or mitral valve repair or replacement; procedures which enable surgeons to repair or replace failing heart valves; or those diagnosed with ASD.
Twelve patients have undergone the procedure since the program was launched in Edmonton in May. This surgical option is also available in Calgary.
The minimally invasive heart surgery program would not be possible without the support of the University Hospital Foundation, whose donors generously funded the purchase of the minimally invasive equipment Dr. Nagendran uses in surgery. The foundation also provided three years of research funding as part of Dr. Nagendran's recruitment to Edmonton.