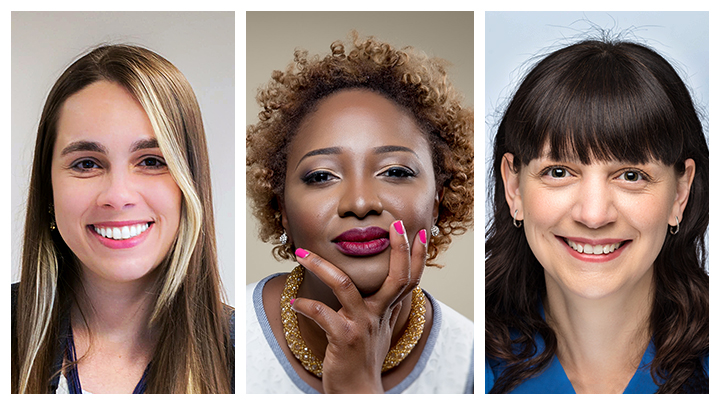 Edmonton's Avenue names three of ours to the Top 40 Under 40
Story by Kit Poole
We know our people excel in their fields.
On Oct. 30, that was validated as Edmonton's Avenue magazine named three people in our healthcare system to the Top 40 Under 40's most influential young people in the city.
Alberta Health Services' (AHS) speech-language pathologist (SLP) Teresa Hardy, pharmacist Morenike Olaosebikan and an AHS affiliate, Alberta Innovates' Dr. Carla Prado join a prestigious group, recognized by Avenue as the most exceptional among emerging community and corporate leaders in Edmonton.
Hardy was named to the Top 40 for "helping transgender individuals find their voices."
As an SLP in the Communication Disorders service of the Glenrose Rehabilitation Hospital, Hardy says her work is important to transgender Albertans.
"When individuals are transitioning their gender role, the way they communicate often doesn't match their appearance or doesn't match their identity and how they would like to present themselves," says Hardy, 38. "That can put them at risk for discrimination, for harassment, even violence."
And so, Hardy works with her clients to change such characteristics as the pitch and resonance of their voice.
"I love being able to help people find their voices," she says. "I've felt so honoured to be able to walk part of the journey with my clients, to see the joy they experience when they're making progress and becoming the selves that they know themselves to be."
As for being named to the Top 40 Under 40 list? Hardy says she was thrilled.
"I was very excited and honoured to be to be recognized and I'm hoping it can shed some light on the needs of the community, as well."
Like Hardy, Olaosebikan puts community first.
Olaosebikan, 34, was named to the Top 40 for using "her creativity — and the creativity of others — to engage the community around social issues related to HIV."
A pharmacist by trade, Olaosebikan is also a QuitCore facilitator for an AHS tobacco-reduction program. In addition, she works with AHS' Communicable Disease Control with the Sexually Transmitted and Blood Borne Infections network.
Yet in her limited spare time, Olaosebikan created Ribbon Rouge, an event featuring fashion, arts and music performed by international students.
"Ribbon Rouge started 11 years ago as a fundraiser, but it has evolved from that," she says. "In 2013, I registered it as a foundation. We try to touch on different themes every year to educate the public about not just HIV, but social issues like sexual assault, gender-based violence, homophobia and racism."
Part of changing those social issues means changing the stigmas associated with them, particularly with HIV, says Olaosebikan.
"Stigma is a big factor hindering how people access treatment, screening, diagnosis, and prevention and support services," she says. "Discrimination and inequity is something that fundamentally aggravates me. If there's something that could break my spirit, it would be that.
"The thought that we can fundamentally change things, I find aspirational."
Striving for change is also something Dr. Carla Prado, PhD, is also passionate about.
Prado was named to the Top 40 for "conducting ground-breaking research that impacts people's health, while sharing that information with the public, industry and academia."
Her credentials prove she is up to the task. Prado, 36, is Campus Alberta Innovates Research Chair in Nutrition, Food and Health, and an assistant professor as well as the director of the University of Alberta's Human Nutrition Research Unit
And she loves to share her knowledge.
"I've been called to talk all over the world about the research we are doing and how it affects health and healthcare costs," she says.
Prado is studying muscle mass in older people as well as people who have cancer and obesity.
"The key is the amount of muscle," she says. "Muscle is important for our balance, our mobility, for strength and immune function. Whenever we battle disease, proteins in the muscle can be mobilized to fight infection.
"Low muscle mass affects people's independence," Prado says. "And quality of life is determined by the ability to be independent."
Her research focuses on measuring body composition, which notes the proportions of muscle mass and fat in an individual, as compared to more common body mass index (BMI) index, which is a measure of body fat based on height and weight.
"People can have the same BMI, yet have a huge difference in lean mass," Prado says. "Even people with high body weight can have low muscle."
While for now her research targets those with cancer, ultimately it is aimed at all Albertans.
"We are looking at how dietitians can use our sophisticated body composition tool to make clinical decisions in clinical care. That's bridging the gap," Prado says. "Bringing my research back to the public is what I'm very passionate about. It makes a difference right at ground level."