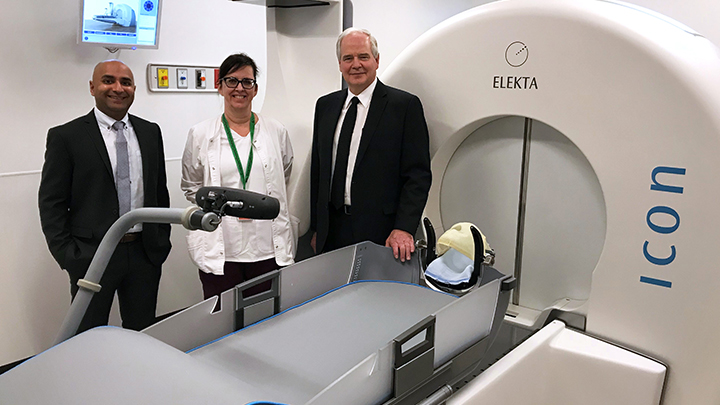 Gamma Knife suite opens at University of Alberta Hospital
Story by Sharman Hnatiuk
EDMONTON — Choosing between traditional brain surgery or a painless, scalpel-free Gamma Knife treatment proved an easy decision for registered nurse Jan Wasylyshyn.
"Working as a nurse in post-operative recovery at the University of Alberta Hospital (UAH), I cared for many neurosurgical patients," says Wasylyshyn. "There are risks with any surgery, but brain surgery requires an intensive care hospital stay and the recovery can be challenging; I didn't want to have a craniotomy (in which a flap of bone is removed to access the brain)."
In 2012, Wasylyshyn learned she had an acoustic neuroma, a benign tumor that develops on the nerve that connects the ear to the brain. She travelled to Winnipeg to receive Gamma Knife treatment, which pinpoints a highly accurate dose of radiation to certain tumours and other lesions while minimizing the impact on the patient's normal brain tissues. The highly focused beams of gamma rays are guided with surgical precision, without a scalpel and without the usual risks of open neurosurgery.
"Thanks to the Gamma Knife, I was back to work quickly, able to attend my son's graduation the following week, and back to the day-to-day of my regular life," says Wasylyshyn.
Edmonton is now home to western Canada's first Gamma Knife Icon, the most advanced Gamma Knife technology available.
It completes the Scott & Brown Families Advanced Imaging and Gamma Knife Centre, which includes the first 3T MRI (Magnetic Resonance Imaging) for outpatient diagnosis and care at the UAH.
Donors to the University Hospital Foundation's Brain Centre Campaign fully funded the centre, contributing $17.5 million towards the purchase of the 3T MRI and Gamma Knife and the renovation of the program area.
Gamma Knife treatment for patients at the UAH will begin in December. The treatment will be planned and provided by an interdisciplinary team of staff and physicians from UAH and the Cross Cancer Institute, including neurosurgeons, radiation oncologists, medical physicists, radiologists, diagnostic imaging technologists, radiation therapists and nurses. Treatment typically takes between 30 to 90 minutes, depending on the size of the tumour or lesion being treated.
"Access to the Gamma Knife means we can provide the safest and most effective care for patients with brain conditions such as brain tumours, blood-vessel malformations, severe facial pain and certain movement disorders," says neurosurgeon Dr. Keith Aronyk, the AHS Zone Clinical Department Head of Neurosciences.
Most patients return home the same day they're treated and resume normal activities within a day or two. In the coming year, about 300 patients from across Alberta as well as western and northern Canada are expected to receive Gamma Knife treatments at the hospital's new centre.