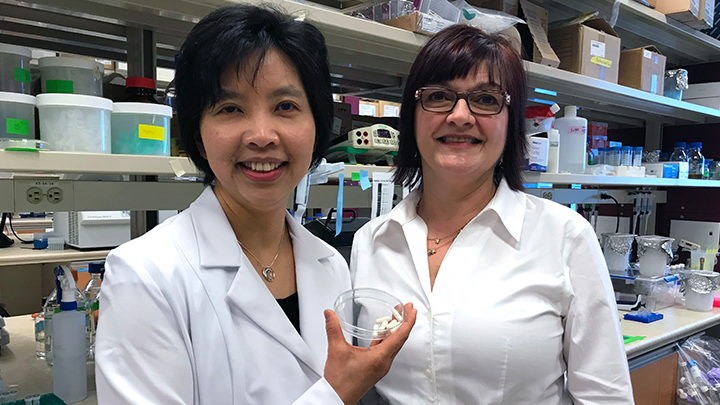 Results of Alberta-led clinical trial published in Journal of the American Medical Association
Story by Gregory Harris | Photo by Sharman Hnatiuk
Few experiences compare to the ravages of an unchecked clostridium difficile (C. difficile) infection, which can wreak havoc with the gastrointestinal system when the healthy balance of gut bacteria is thrown out of whack.
Just ask Karen Shandro of Ardrossan, 30 km east of Edmonton.
"I felt awful," she says of the C. difficile infection that hit her hard in 2015 after she underwent a course of antibiotics for a sinus infection.
"I had unbearable diarrhea, no appetite, chills and fever — and I couldn't keep any food in me. My health really deteriorated."
At one point her condition grew so grave her husband called an ambulance to take her to the emergency department at Fort Saskatchewan Community Hospital.
Today, C. difficile is just an unpleasant memory for Shandro, who credits her improvement to taking part in a groundbreaking Alberta-led clinical trial. It showed that Fecal Microbiota Transplant (FMT) is as effective in treating C. difficile infections whether delivered by colonoscopy or by swallowing capsules.
The finding, which was published Nov. 28 in the Journal of the American Medical Association, could revolutionize and broaden the use of FMT, which restores the healthy balance of bacteria living in the intestine by transferring a healthy donor's stool to the gut of a person with C. difficile.
"This will transform the way people think about how we deliver Fecal Microbiota Transplant," says Dr. Dina Kao, the lead author of the study, an associate professor with the University of Alberta's Faculty of Medicine and Dentistry, and an Alberta Health Services (AHS) gastroenterologist.
"Capsules have numerous advantages over colonoscopy. They are non-invasive, they're less expensive, they don't have any of the risks associated with sedation and they can be administered in a doctor's office."
Capsules containing frozen donor bacteria and taken orally were shown in Dr. Kao's study to be 96 per cent effective in treating C. difficile, the same success rate as those receiving transplant by colonoscopy. The pills have no scent or taste.
Humans are host to hundreds of different species of gut bacteria, which together help the digestive and immune systems to function properly. However, when a harmful infection requires treatment with antibiotics, those same antibiotics can disrupt the healthy balance of the gut bacteria, allowing opportunistic microorganisms such as C. difficile to move in and cause illness.
People with C. difficile infections suffer from diarrhea, cramping and other gastrointestinal difficulties. In advanced cases, it may be necessary to remove the large intestine. Although rare, C. difficile can be extremely debilitating and resistant to treatment by antibiotics. In some cases, it can be fatal. In Alberta, there are about 200 C. difficile cases every year, of which between 20 and 40 are fatal.
Dr. Kao says a unique feature of the two-year research study is that it's the first to compare different delivery methods using the same amount of donor stool. It's also unique in that it looks at patient preference and experience. She says on the strength of the research, she can now begin offering patients a choice between delivery methods for FMT. Work is also underway within AHS to examine ways to offer FMT by capsule more broadly.
Dr. Kao notes the oral method of FMT would likely save the health system a minimum of $1,000 per patient.
Although Shandro says there was no unpleasant taste or aftertaste to the pills, the sheer number she had to take was a bit of a challenge. Each participant had to take 40 capsules within an hour.
"Afterwards I went home and slept for four hours, then woke up starving, which was something new to me at that point," she recalls. Her health continued to improve and. within two days, she felt upbeat and her normal self again.
Dr. Kao's work is funded with $500,000 from AHS and $357,000 from community donors through the University Hospital Foundation.
Dr. Thomas Louie, Calgary FMT co-lead, and senior author on the paper, pioneered the development of the FMT pill. Louie is a clinical professor with the University of Calgary's Cumming School of Medicine and an AHS specialist in internal medicine.