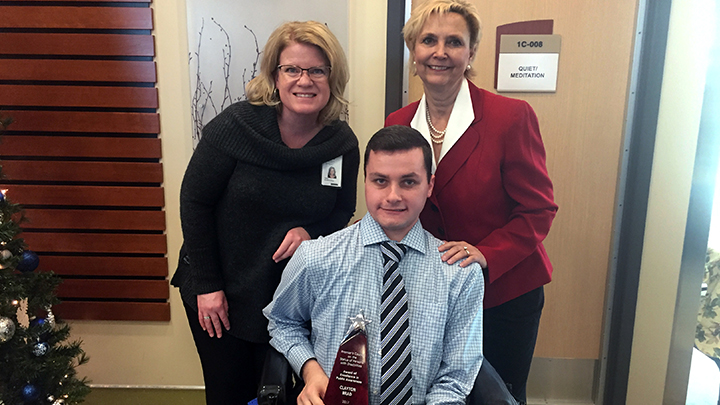 Fort Saskatchewan volunteer feted on International Day of Disabled Persons
Story by Sharman Hnatiuk | Photo by Val Gabert
FORT SASKATCHEWAN — Clayton Brad has always strived to show people his ability. The 24-year-old is a familiar face to patients, families, staff and physicians at the Fort Saskatchewan Community Hospital (FSCH), where he's volunteered for five years.
Born with a nerve condition that limits his ability to walk using his own strength, the local resident uses a wheelchair full-time as he delivers mail and porters items between departments on his volunteer shifts.

"I like volunteering at the hospital because it's one way that I can show how people with disabilities have their own strengths, and they have lots to contribute to society," says Brad. "Being in a wheelchair hasn't stopped me from enjoying life and contributing to my community."
On Dec. 1, Brad helped organize a hospital event — with community partners such as Families First and Edmonton Epilepsy Association — to recognize International Day of Disabled Persons (IDPD), which falls annually on Dec. 3.

City Mayor Gale Katchur also attended to sign a proclamation for the day, which aims to increase awareness of the situation of persons with disabilities across every aspect of political, social, economic and cultural life.

At the celebration, Brad's good works did not go unnoticed — he received the Premier's Council on the Status of Person with Disabilities Award of Excellence in Public Awareness.
"Clayton does so much for us at the site, we were honoured to host when he asked to organize an IDPD day at the hospital," says Tammy Burrows, manager, Site Operations, Planning & Projects at FSCH.
"Clayton is an incredible volunteer who's easy to talk to — funny, personable and available when you need him. He does not let his disability get in the way of living a busy life that includes fishing, hunting, going to concerts and assisting us here at the hospital.
"He reminds us every day to see the ability among people with disabilities."