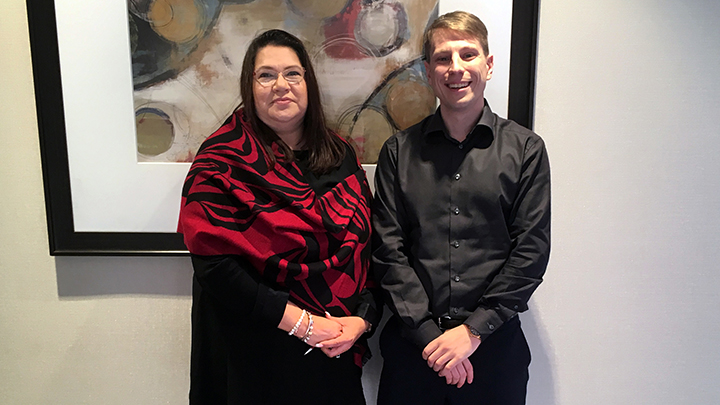 First Nations partnership key to coming up with ideas for improvement
Story by Greg Harris
Bonnie Healy knows first-hand how racism and stereotypes about Indigenous people can turn a healthcare encounter into a memorably negative experience.
Healy, the Operations Manager for the Alberta First Nations Information Governance Centre and a member of the Blood Tribe, recalls a time when she visited an emergency department for asthma.
"The triage nurse told me I didn't have asthma," Healy says. "Then a resident came in and told me I had a virus. Finally, I got an X-ray taken and a respiratory therapist came in and told me I had asthma."
Being disbelieved by clinicians was all the more frustrating for Healy, who is also a registered nurse.
Healy and Patrick McLane, PhD, Assistant Scientific Director for the Emergency Strategic Clinical Network (SCN), recently received federal funding to explore the experiences of First Nations people in Alberta's emergency departments with a view to making recommendations for improvement.
"We've recognized within Alberta Health Services that the relationship between the health authority and First Nations people can improve," says McLane.
"We'll be looking at Alberta Health data and then interviewing First Nations patients — both men and women from remote, rural and urban centres — to get their perspectives," adds McLane. Researchers will also sit down with clinicians to get their views.
The Canadian Institutes of Health Research (CIHR) recently announced it would provide $554,625 in funding for the three-year project, Understanding and Defining Quality of Care in the Emergency Department with First Nations Members in Alberta.
Alberta statistics show First Nations people visit emergency departments at twice the rates of non-First Nations people, yet are more likely to leave without being treated. Since the emergency department often serves as the primary source of healthcare for many First Nations people, it's critical to ensure it provides quality care.
"We want to understand the stories First Nations people are experiencing without making them feel interrogated," Healy says of the research. "We also don't want service providers to feel investigated."
First Nations people often worry about healthcare providers making assumptions about them based on their race.
"This is more about how we can work together to improve the quality of care and make sure that any First Nations individual who walks into an emergency department leaves with their questions answered and recommendations for followup," says Healy.
McLane notes the partnership between the Emergency SCN and the Alberta First Nations Information Governance Centre is critical for the project's success. Maskwacis Health Services, Yellowhead Tribal Council, Siksika Health Services and the Treaty 8 First Nations of Alberta health organizations have all signed on, with other partnerships in development. Work is also underway to appoint an Elder Advisory Board to provide guidance.
Although McLane and Healy are the co-principals in the study, academics and clinicians from around the province will also be involved.