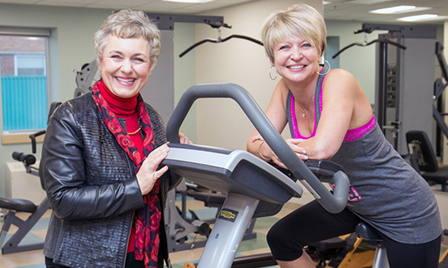 Get Moving study sees AHS and UCalgary researchers probe link between physical activity and survival
Story by E.B. Law & Kristin Whitworth | Photo courtesy of Cumming School of Medicine
It's no surprise physical activity is beneficial to our overall health, but sometimes we aren't able to quantify how much it helps us. University of Calgary and Alberta Health Services researchers want to know whether or not physical activity can help breast-cancer patients get through treatment more easily — and whether or not being active will prolong their lives.
The Alberta Moving Beyond Breast Cancer (AMBER) study — led by Dr Christine Friedenreich, Scientific Leader, Department of Cancer Epidemiology and Prevention Research, Alberta Health Service and division head, preventive oncology, and adjunct professor at the Cumming School of Medicine (CSM) and Faculty of Kinesiology — is recruiting newly diagnosed breast cancer patients.
The study will assess their initial physical fitness, muscular strength and endurance, body composition, physical activity and sedentary time — and then monitor how these factors change during the first five years after their diagnosis. Blood will also be collected and analyzed for biologic markers that may help to explain how physical activity and fitness are related to survival.
A recent grant from the Canadian Institutes of Health Research (CIHR) will support recruitment of additional patients for the study and complete their monitoring.
"This study was first designed to recruit 1,500 women in either Edmonton or Calgary," says Friedenreich. "We wanted five years of data collection and then five years of follow-up. To date we have recruited more than 1,200 women, and this grant allows us to meet our original goal of 1,500 recruits with follow-up assessments of up to five years for each of the participants."
Patients are given a high-tech activity tracker called an accelerometer to monitor their movement and sedentary behaviour over time. Follow-up is done at one, three and five years to assess patients' ongoing fitness and activity levels as well as their overall health and survival outcomes.
Louise Jefferies-House volunteered for the study three years ago. "You have a lot of fun throughout the process, even at the checkups. The staff are helpful, kind and easy-going," she says. "It's not a chore. It's not scary, uncomfortable or intimidating."
Friedenreich is working with researchers throughout Alberta.
"First we conceptualized the study as a team grant," she says. "The research has several components, and teams at other centres are taking the lead on the various pieces."
Teresa Davidson, Executive Director of the Tom Baker Cancer Centre, says this work will inform the entire province and healthcare on how to integrate cancer prevention with cancer treatment.
"The outcomes inform our decisions and priorities as a healthcare system in CancerControl Alberta, and this directly impacts patients for our future," says Davidson. "We're excited about this research grant and how this translates to the patient care we provide."
The CIHR grant toward Friedenreich's research is part of a $29-million federal investment in UCalgary researchers involved in health research announced in January.
'The CIHR Award for Dr. Friedenreich and colleagues is a testament to the important work being conducted by our Cancer Epidemiology and Prevention Research department," says Dr. Sunil Verma, Medical Director for the Tom Baker Cancer Centre.
"This award will support ongoing recruitment and follow-up for the AMBER study," she adds. "The results will be pivotal for AHS to help assess the role of exercise to support patients as they undergo cancer treatment and evaluate long term outcomes of this intervention. Studies such as this demonstrate the comprehensive approach needed for us to meet the needs of our cancer patients and to help them go through their treatment."
To learn more about the study, please see online or call 403-698-8067.