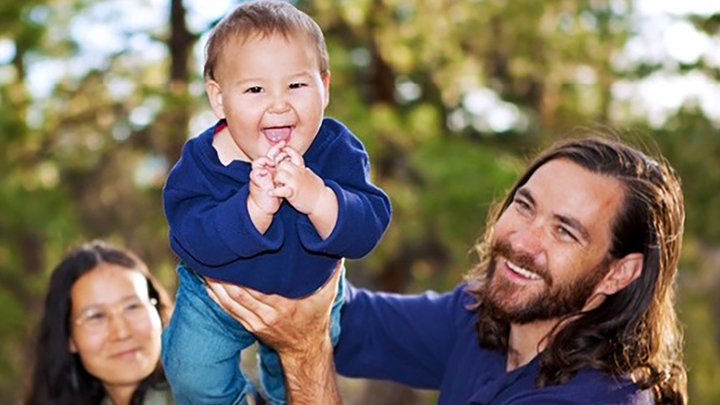 Elbow River Healing Lodge adds midwifery services
Story by: Christopher Schieman
When Dr. Lana Potts became Medical Director of the Elbow River Healing Lodge in 2016, she knew this would be an important role in creating a bridge between western and traditional Indigenous medicine.
She also thought about the important roles members of her family played in her Blackfoot Piikani Nation community.
"My great-grandmother was a midwife and I would hear stories about her travelling between communities to deliver babies, and it always intrigued me," says Potts. "The ceremony of bringing life into the world is something that's extremely important to First Nations people, adding both physical and spiritual support and is vital to improving First Nations health."
Elbow River Healing Lodge is part of Alberta Health Services' (AHS) Indigenous Health Program, which works with Indigenous people to provide accessible, culturally appropriate health services for First Nations, Métis and Inuit peoples in Alberta. Potts says that having a culturally safe space like Elbow River Healing Lodge not only creates a connection in Indigenous communities, but also prompts more Indigenous people to seek out medical treatment when it's needed.
Midwifery, as a new program at Elbow River Healing Lodge, has strong ties to Indigenous culture and is serving a major need for thousands of Albertans and brings more traditional practices back into the community through its partnership with AHS.
Elbow River Healing Lodge is one of a few primary care clinics in Alberta that offers midwifery services, helping new parents from prenatal to six weeks post-partum, including labour and delivery. Services from midwives are available in clinic, in hospital, and at the patient's home.
The Indigenous Health Program launched in 2009 in response to a recommendation from the Wisdom Council, an advisory group made up of leaders from Indigenous communities who provide guidance on healthcare services for Indigenous people.
Two key components of the Indigenous Health Program are the Indigenous Wellness Centre in Edmonton and Elbow River Healing Lodge in Calgary. Both clinics focus their primary care around Indigenous traditions and culture to ensure a safe and welcoming environment for community members looking for care.
To this end, Nadine McRee, Executive Director of the Indigenous Health Program since 2017, also strives to build relationships with Indigenous communities across Alberta and create awareness within AHS staff.
"There's a lot of genuine interest from AHS staff in learning more about the history of Indigenous people in Alberta," says McRee. "A big part of the Truth and Reconciliation Call to Action is everyone's responsibility to gain cultural awareness. We're seeing some real change as a result of this program."
Through initiatives such as hiring Indigenous liaisons for healthcare facilities, the program is bringing about a blend of Indigenous traditions and culture into healthcare. The liaisons create a greater level of comfort and support for patients by acting as a translator for those who don't speak English and by helping out at prayer and smudging ceremonies.
The success of Elbow River Healing Lodge and the care it provides for Calgary's approximately 30,000 Indigenous people leads Potts to believe there's value in opening Indigenous Health clinics across Alberta. She says she hopes the Indigenous Health Program will expand and build upon its successes as well as integrate more traditional practices into the AHS healthcare landscape.
What the future of the Indigenous Health Program does hold is more focus on predictive planning for Indigenous communities. McRee points out that Indigenous healthcare concerns are complex and vary widely between regions and communities. Strengthening the relationships in every community will address specific concerns and bolster patient-centred care.
"AHS is a large organization and we have the ability to influence systematic and transitional change," says McRee.
"We're like a big steamboat and it takes a lot of people to change the trajectory. A lot of people want to make things better for Indigenous peoples and we're creating that opportunity to make big changes across Alberta."