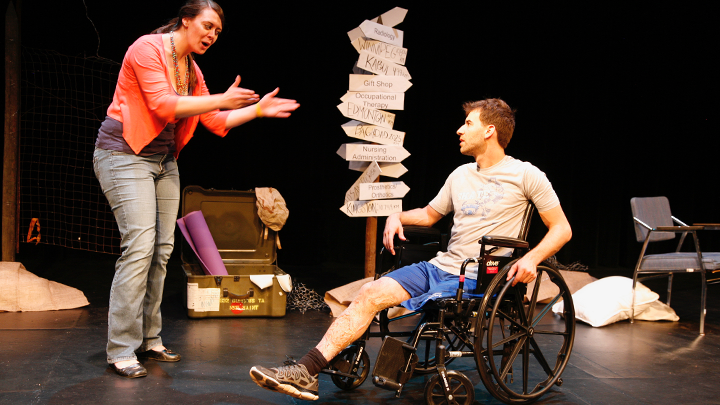 Glenrose helps local playwright bring authenticity to story of rehabilitation and a family's emotional rebirth
Story by Vanessa Gomez | Photo by Ian Scott
EDMONTON — Playwright and producer Liane Faulder has pushed hard to get her first play, Walk, on its feet. With the much-appreciated help from the Glenrose Rehabilitation Hospital and the Glenrose Rehabilitation Hospital Foundation, the play is ready to take the stage at the 2018 Edmonton Fringe Festival.
In Walk, "a Canadian soldier loses his legs in Afghanistan. But the real battle begins when he returns home to a secret that threatens his recovery and his family," according to the program for this year's festival, Fringe'o'saurus Rex, which runs through Aug. 26. The play, which won the Alberta Playwrights' Network Discovery prize in 2015, is inspired by Faulder's book, The Long Walk Home.
"I wanted to explore what it would take for someone to just be OK as they are," says Faulder, a columnist at The Edmonton Journal. "Even though this soldier has lost his legs, he's still able to be a good father and husband."
Greatly adding to the authenticity of the play, the Glenrose proved to be a valuable resource for Faulder. Hospital equipment was generously loaned as props to create a physiotherapy environment and Glenrose prosthetist, Mike Stobbe, gave detailed advice on how to best depict amputees.
"People don't really have an understanding of amputation and the challenges of daily living," says Isabel Henderson, Senior Operating Officer of the Glenrose. "This play will really broaden the public's exposure to the world of disability."
The Glenrose also has a special military connection of its own, as the home of CAREN (Computer Assisted Rehabilitation Environment), a high-tech rehabilitation tool.
As versatile as an aircraft simulator, CAREN's split-belt-treadmill platform, motion hydraulics and circular surround screen can be programmed to create practically any scenario or game to deliver a rehab program tailored to a patient's needs.
Since its debut in 2011 at the Glenrose, this virtual reality simulator has been helping wounded military personnel and a variety of civilian patients make great strides in restoring their mobility. CAREN is a partnership with Canada's Department of National Defence, the Government of Alberta, Alberta Health Services and the hospital foundation.
Meanwhile, the Glenrose and the University of Alberta's Faculty of Rehabilitation Medicine have also partnered to find better ways to treat post-traumatic stress disorder (PTSD) faced by the military, veterans, first-responders and their families.
It's a theme which Faulder explores in her play.
"There's a high price people pay when they go to war," says Faulder. "The emotional toll can entangle an entire family."
The Glenrose Hospital and Foundation assisted Faulder's search for an amputee who would be willing to take on the emotional role. In the end, Faulder's Kickstarter campaign led her to Ben Proulx, an Edmonton comedian who lost his leg to cancer as a child.
Faulder says she's excited to see Walk come to life — and is also happy to be giving back to the Glenrose with a pledge of $1,500 from her Kickstarter Campaign.
"It feels terrific. It's really something else to see it coming off the paper and onto the stage," she says.
"And this kind of movement in theatre shows us that people with disabilities are totally capable of participating in all forms of art and culture."