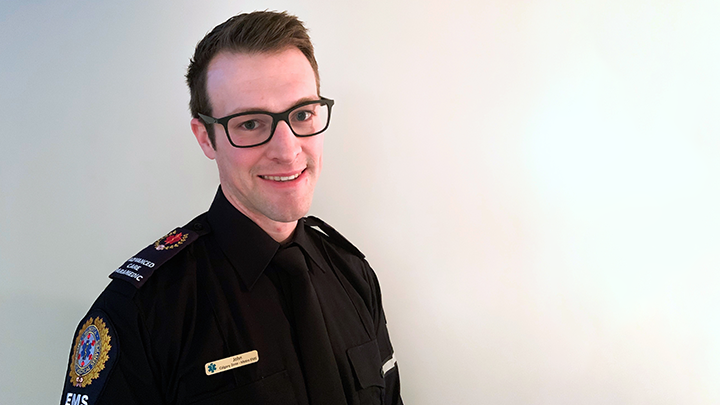 Paramedic awarded bursary to support study of pre-hospital care
Story by Amelia Schofield
CALGARY — Thanks to funding from the EMS Foundation, a paramedic is advancing his education as he furthers his research into pre-hospital care.
John Taplin, an advanced care paramedic with Alberta Health Services, is the recipient of the EMS SEEDS Program Bursary, which will support his pursuit of a master's degree in health economics at the University of Calgary.
The EMS SEEDS Program enables paramedics to apply for a bursary to cover the cost of graduate studies focused on advancing pre-hospital care through research. It's intended to encourage research in pre-hospital care, provide education and mentorship opportunities to students, and strengthen research partnerships between the EMS Foundation, EMS and the University of Calgary.
After working for several years, Taplin decided to further his education in economics. This ultimately spurred his interest in health economics, and his current pursuit of a master's in the field.
"My interests are really in broad systems approaches and sustainability of the healthcare system," says Taplin, "so this led me into health economics and really focusing on the economic evaluations and interventions in health care and policy options at systems levels."
Taplin's experience as a paramedic includes eight years working with the Siksika Nation, east of Calgary. His time in this community ultimately inspired his research choice.
"It's really merging three areas that I think have not traditionally gone together with respect to research — health economics, EMS and Indigenous health."
Through his research, Taplin aims to contribute towards improved health outcomes for Indigenous communities.
"My objective is to research funding and service models in the delivery of EMS services in partnership with the Indigenous communities, to help make evidence-informed decisions that will go on to improve the health outcomes and experiences and this will lead to stronger policy development," he adds.
Taplin emphasizes the importance of community involvement in this area.
"To do this, we really need to have meaningful engagement with all of our partners, especially with our Indigenous partners, to identify the service needs, priorities and the gaps in the healthcare services," he says.
"It's also about respecting community knowledge and coming from a strength-based approach with self-determination in mind, where communities are able to retain their identity and the stewardship of health service delivery in their communities."
For Taplin, access to the EMS SEEDS Program has been key to pursuing his education.
"Personally, the EMS Foundation really led me down this path to further my education. The opportunity for the funding has really allowed me to focus on my studies, (without) having that financial burden that a lot of students experience."
The Foundation plays a valuable role in advancing the EMS profession, he says.
"It's critical in developing the profession. Just looking at the pilot programs the EMS Foundation has contributed to, they're programs that are in place now across EMS that are not only investing in great care, but also in the employees.
"Foundations like the EMS Foundation are really invested in making healthcare better for people in Alberta and it just leads to furthering the profession so they're able to improve the whole system through this dedication."
For more information on how to support the EMS Foundation, please visit emsfoundation.ca.
Visit AHS.ca/give for a full list of Alberta's health foundations.