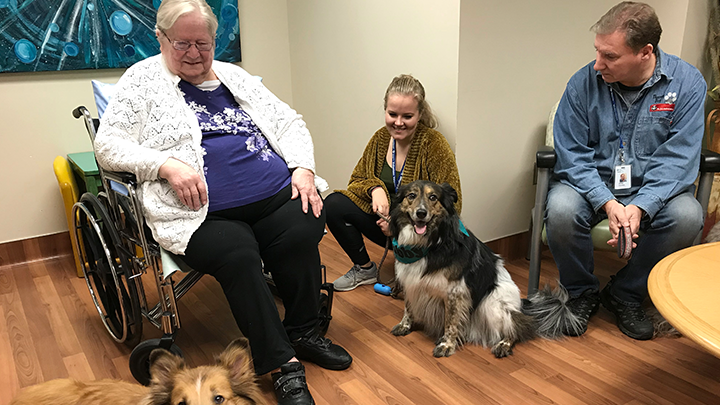 Furry friends in Sturgeon pet therapy program lift spirits for all
Story & photo by Vanessa Gomez
ST. ALBERT — For Rita Frederick, a tail-wagging visit from Charlie and his owner Ferd Caron is the perfect way to lift her spirits. Due to a leg injury, she's been an inpatient since July at Sturgeon Community Hospital (SCH), and looks forward to time well spent with the rough collie.
"Charlie comes in just about every week," she says. "It's nice to see because it's something that uplifts you. It takes away from the monotony of the day."
The SCH has offered Animal Assisted Therapy for more than a decade to help patients cope better with being in hospital. With five handler/dog teams currently volunteering through the Pet Therapy Society and St. John's Ambulance, handlers are able to bring their certified companions to several Alberta Health Services sites as they bring smiles to patients and staff.
"The whole purpose of this is to bring joy and a little bit of therapy to those who need it," says Betty-Lynn Zukewich, with SCH Volunteer Services.
To be certified, dogs and their owners undertake rigorous training to ensure the animals are responsive to pet therapy, including practicum training courses and practice visits to other sites, such as the Young Offenders Centre.
Arnie Dunsmore and Cowboy, his Australian Labradoodle, appreciate the power of pet therapy and know how special dogs can be for people living through tough times. Cowboy loves to curl up to people and sweetly paw for attention.
"People can come in anxious, angry and in their own world — but when they see a dog and they see he's calm, they're calm. It's amazing to see the transition," says Dunsmore.
Dana Hunt to watch how Gabby, her Australian Shepherd mix, interacts with others.
"Gabby has always been a very calm and patient dog," says Hunt. "When she senses that people are upset, or in need of help, she just sticks to their side. We love watching her help people through whatever sort of stressors they're experiencing."
With a decade of experience under his collar, Duke, a 14-year-old Border Collie/Blue Heeler cross, and his handler Gene Casavant, are a favourite with SCH staff and patients. The duo are easily recognizable as they walk down the halls.
When they're not at AHS sites, pet therapy duos can also calm anxious flyers at the airport and provide stress relief to office workers and students.
"Animals know when someone is upset and they need that time, or when they just need a cuddle," says Zukewich. "It's amazing what an animal can do to help someone."