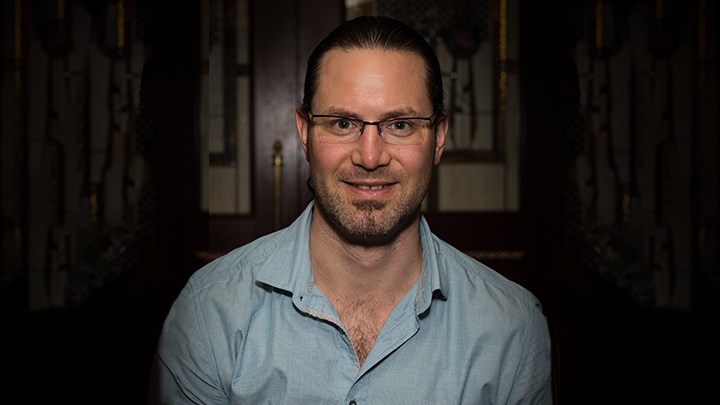 Providing Medical Assistance in Dying an honour for physician
Story by Sherri Gallant
When Medical Assistance in Dying (MAID) became legal in Alberta, Dr. Tobias Gelber, a family physician in Pincher Creek, opted in without hesitation.
"When the legislation became available I was a very strong proponent, so I signed up right away to be a provider just to make sure that patients in and around my area have that opportunity," says Gelber, who has provided MAID for four patients.
"I've had patient experiences where I've assisted them through the dying process before MAID was made available, and one patient in particular stands out for me. He had bad metastatic cancer. He was a very proud, stoic fellow. There was a tumour moving through his abdominal wall, and this was a very emotionally difficult way for him to go.
"In his last few days, he just looked at me and said: 'Where's the switch — how do I turn this off? How do I make it stop?' His pain was well-controlled, but he was mentally anguished by having this tumour growing through his abdominal wall. It just ached for me that I could not legally assist him, in what was a major time of need for him."
Gelber, an award-winning physician in practice for more than 15 years, felt a keen sense of unfairness.

"I'm very certain that MAID helps both families and the patients themselves on the journey and spares them the indignity of a tortuous death, and the pain and suffering that goes along with that kind of dying."
One of his own patients turned out to be his first provision; a man with metastatic (spreading) lung cancer who broached the subject one day.
"It was really special to be part of that journey with my own patient, who I knew and had a long history with. We went through the assessment process together and it was just an incredibly special event when he finally did do it, in his own home."
Gelber says feelings that come up for him during a MAID provision are akin to those which accompany an event at the other end of life.
"I've described it to other people as analogous to the first delivery that you see; bringing a life into the world. I do recall the first delivery that I witnessed, and I was quite emotional. Just seeing the birth of a new baby for a young medical student who's never seen anything like that before, it was quite overwhelming.
"And I had the same sort of emotions going through my mind with this case. I don't think I've done any of these with a dry eye. It's empathy for the family, and empathy for the patient — and the gratitude that's being expressed is just all part of it. You get caught up in it."
None of the patients Gelber has provided for have shown any sign of regret or hesitation.
"They have all been eager, I would almost say, to get through this. I have not seen a single patient shed a tear. They're ready. They want it."
MAID is a controversial topic, with proponents on one side of the table and conscientious objectors on the other. Gelber's wish is for people to know how much patients desire MAID, how much they appreciate it, and how much their families appreciate it.
"There is no coercion here," he says. "We have a fantastic system here in Alberta that prevents any of that sort of stuff from happening. The 10-day waiting period, the multiple providers, the thoroughness of the assessments, and the restrictions that specify people must be compos mentis (mentally stable) and have no delirium — all of those things make the process supportive of the rights of the patient."
Gelber seizes every opportunity he can to provide MAID education.

"Every single case that I've done I've brought a learner with me, so that they're able to be part of the process and can see what goes on," he says. "That's been a very interesting experience for the learners as well. I want to demystify it, and show them how meaningful this is for the patients and the families."
The MAID process
Patients can choose either an oral medication to drink or intravenous medications. To date in the South Zone, no one has chosen oral medications. Gelber explains that some patients are too ill to tolerate swallowing the liquid, and could vomit it up. In addition, the oral route takes more time to accomplish the goal — an hour or longer.
The intravenous MAID process takes around 10 minutes. The first medication is given to erase any memory someone may have of anything following administration of that drug.
"It puts them off to sleep," says Gelber. "So as that medication goes in, their eyes close and their breathing pattern starts to change a little — they don't stop breathing, but they take deeper breaths. Then we give a small dose of a local anesthetic, to protect against the next medication, which stings a bit when it goes in.
"We wait a little bit after the local anesthetic goes in, and then we give a very large dose of a medication that causes someone to stop breathing. It's given slowly, over several minutes, and is followed by a large dose of a muscle relaxant, or a neuromuscular blocker, which will stop the diaphragm from working. It also prevents any twitching that might take place as part of the dying process, which could be unpleasant for the family to watch.
"Then it's just a matter of time waiting for the oxygen levels to drop low enough until the heart stops. We don't monitor that. We do not give any medication that actively stops the heart. The actual mechanism of dying is hypoxia (lack of oxygen), leading to cardiac arrest."
Gelber says MAID has allowed him to participate as fully as possible in the patient's journey.
"In the past they may have been placed in palliative care ward or we weren't able to manage their pain. Those services are very valuable and do excellent work, but not all patients want a prolonged dying experience.
"Now we've been able to provide patients with another option that clearly they and their families want. It's a very, very sensitive topic — kind of a taboo topic for society to talk about. So for the patients to be able to come to a trusted source and talk about this in an open manner, it's liberating. They don't have to feel like they're walking on eggshells, or risk their doctor-patient relationship."
Being a family physician first and foremost, and an anesthetist second, is a good combination for this particular work, adds Gelber.
"Working through the decision to undergo MAID is a profound and often emotionally taxing process for the patient and their families. As a family physician, I have a lot of experience helping people through significant emotional times and consequently have found that I am well-equipped to help people through the decision-making process surrounding MAID.
"As an anesthetist, it's no problem for me to start an IV and administer the medications used in MAID. Since I use them every day in the operating room; it's second nature to me as well. Being able to physically assess a patient as they are passing is similar to the way that we might assess someone under anesthetic in the operating room.
"It's something I feel very passionate about. I feel it's an honour to be part of this, and I want to make sure that people are aware it's available."