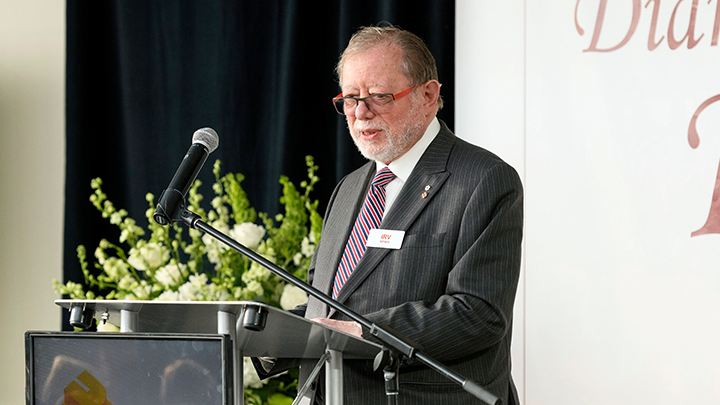 Northern Alberta Urology Centre renamed to honour philanthropists
Story by Sharman Hnatiuk
EDMONTON — Bruce Mintz, 71, vividly recalls Dec. 22, 2017. It was the day got the call confirming he had prostate cancer. While the ensuing surgery and radiation treatments taxed his body, the lawyer and master track and field competitor says he couldn't be happier with the care he received at the Northern Alberta Urology Centre, part of the University of Alberta Hospital's Kaye Edmonton Clinic.
"My urological surgeon called me on more than one occasion within hours of getting a test result; I felt I was always getting quick and comprehensive care for the treatment of my prostate cancer," explains Mintz. "I truly believe I had access to some of the best care in North America — from diagnosis to treatment."
The centre was officially renamed to the Dianne and Irving Kipnes Urology Centre last Oct. 31 by Alberta Health Services President and CEO Dr. Verna Yiu.
The change recognizes a $10-million commitment to the University Hospital Foundation from local philanthropists Dianne and Irving Kipnes — and honours their desire to advance research and enhance patient care in this field.
"Albertans have access to the leading urology ambulatory centre in the country, and this donation from the Kipnes family will allow us to continue to develop and enhance a state-of-the-art practice," says Dr. Trevor Schuler, Divisional Director, University of Alberta Division of Urology, and Zone Section Lead for Urology, Edmonton Zone. "This truly is a transformational gift, one that will help bring research from the bench or concept to the bedside clinic and enhance the development of patient centered care.
"When faced with diagnoses such as cancer, many patients experience fear, hurt and frustration; our goal each and every day is to convert those feelings into that of understanding, confidence and hope."
"The Dianne and Irving Kipnes Urology Centre will do just that through a commitment to transformational, evidence informed, state of the art care. This gift will allow us to grow and sustain the legacy of the vision Dianne and Irving Kipnes for years to come."
The centre features 32 patient examination rooms, six cystoscopy rooms (for procedures that visualize the inside of the bladder), a lithotripsy area (where shock waves are used to break up kidney stones), two rooms for urodynamic bladder function testing, and four specialized rooms for minor surgical procedures.
Albertans from the Edmonton region as well as Central and Northern Alberta make more than 52,000 visits annually to receive specialized care and treatment at the AHS site.
A cornerstone of the centre is the C.J. Woods Prostate Health Clinic, designed to provide quicker and more comprehensive care to men needing tests or treatment for prostate cancer. About 25,000 men are diagnosed with prostate cancer across Canada each year; one in seven men in Alberta will be diagnosed with the disease in their lifetime.
Mintz completed his final round of radiation last Oct. 3 — and has since received confirmation from his surgeon that his cancer is now in remission.
Today, his goal is to get back to his pre-cancer times in the 100- and 200-metre sprints in time for the 2019 Canadian Masters Indoor Track and Field Championships, coming to Edmonton this March.