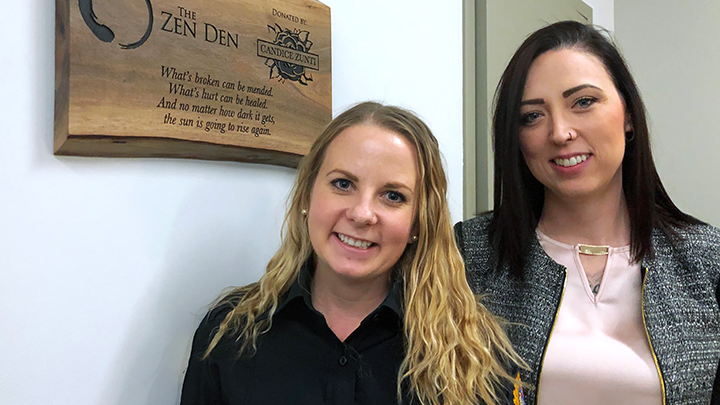 Station creates a tranquil space to combat anxiety of distressing calls
Story and photo by Vanessa Gomez
EDMONTON — It's hardly surprising that the very unpredictability of a 9-1-1 call can raise stress levels for anyone. For Emergency Medical Service (EMS) practitioners on the frontlines, attending to distressing situations day in, day out, can take a toll on their mental well-being.
"We're so good at putting on a uniform and disguising how we really feel," says Molly Varga, an Alberta College of Paramedics Peer Support Worker with EMS. "We keep that demeanor all day after a stressful situation, and we feel anxious waiting for the next call."
To combat their high level of stress, a space called the Zen Den — a quiet place for practitioners to step out of their roles and breathe, so to speak — has been created at the Queen Mary Park EMS Station.
"Having this space will help practitioners recognize when they need help, hopefully before it's too late," says Candice Zunti, a former paramedic who struggled with her own mental health on the job. Her generous donation of $5,000 — with AHS helping to match this donation — and her involvement in helping plan the space, proved integral to getting the project off the ground.
In addition to relaxation, the space features activities — researched beforehand to see how well they promote positive mental health — such as yoga, meditation and art therapy. It's the perfect place for EMS staff to wind down after a stressful call.
"If we sit at that high, revved-up state and don't give ourselves time to come down, our stress response is really affected," says Varga. "Cardiovascular problems become present, we aren't sleeping well or eating properly. Having that time to de-stress allows us to calm down the system — and tap into an area where we can make good judgment calls once we're back on the job."
A key element of the space is that it's free of anything that might remind practitioners of their line of work. The walls are bare. The lighting is soft. Yoga mats are perfectly centred on the floor. Plush meditation pillows sit off in a corner. Before entering the space, EMS workers take off their work boots, a signal to their brain that lets them know it's time to relax. These visual cues enable workers to completely separate the Zen Den from the station.
For Zunti and Varga, the Zen Den represents the hope and progress that's being made to address the mental health of EMS practitioners.
"I'm so grateful we have people that are making decisions who are listening to us and supporting us," says Zunti. "This is a safe space to come and talk about the fact that you're maybe not OK — and this can really extend the longevity of careers."