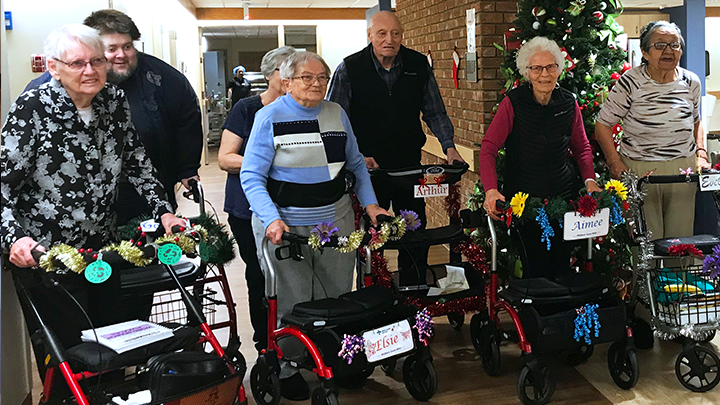 Bows, ribbons and fun decor keep seniors mobile, safer and more independent
Story by Sara Blake
GRANDE PRAIRIE — It's not hard to figure out which walker belongs to Shirley Heiken. Bows, sparkles, and eye-catching decorations adorn the 86-year-old's mobility aid — making it uniquely hers. That's one of the goals of Walkers Gone Wild, an Alberta Health Services' (AHS') initiative at continuing care sites across the province.
"I've been using the walker for about a year and a half," says Heiken, a resident of Mackenzie Place in Grande Prairie. "It makes it so I'm mobile, which is a good thing. And now it's easier to spot, too, with all my decorations."
Emily Post, lead for Practice Development with AHS Provincial Continuing Care, says that while it's true seniors face a greater risk of falls and of severe and prolonged injuries — it doesn't have to be that way.
"While fall risks do increase with age, falls shouldn't be accepted as a normal part of aging," she says. "Prevention is essential in helping seniors remain independent and maintain a high quality of life. Decorating walkers is a fun way to encourage independence and continued mobility in a safe way."
First introduced in care homes in the United Kingdom, the Walkers Gone Wild initiative has been found to help reduce falls, encourage social interaction and get residents and families more involved in their care communities.
Heiken's grandchildren eagerly joined the festivities at Mackenzie Place recently, eager to 'pimp' their grandma's 'ride'.
"We were the first ones there so we had access to all the decorating materials and really took advantage of that," says Erin Gallup, Heiken's granddaughter. "It was a lot of fun! She's probably got the flashiest walker there now."
Decorations and personalized details foster a sense of ownership and promote greater mobility — and acceptance of the need for a mobility aid — by making walkers and wheelchairs more recognizable to their owners.
"I found my grandma was proud of hers at the end," adds Gallup. "All the residents got a kick out of seeing what other people had done with their walkers or wheelchairs. It was something to talk about for them — and they enjoyed seeing the results that came out of it."
Hannah Goerz, an AHS therapy assistant, organized the Mackenzie Place event.
"We had to make sure none of the decorations interfered with the function of the walkers, and that nothing could get caught in the wheels or become a tripping hazard," says Goerz. "It was a lot of fun though, and I think the residents and their families enjoyed themselves."
"It was an excellent opportunity to learn more about the residents, their talents and what matters most to them," says Smitha Prakash, an AHS Home Care physiotherapist. "They were very open and shared stories about their lives. It was also helpful in tailoring client-specific goals for the future to help improve their mobility and to prevent falls."
Gallup adds: "My grandmother had moved here from straight off the farm where she was quite isolated. Coming to Mackenzie Place with all these people to visit and things to do, she's really flourishing."
Heiken agrees, and admits she truly enjoys her new friends, surroundings and care providers.
"They're wonderful in here, I've got nothing but good things to say about all of them. There's lots of activities and I participate in most of them. It gets me going."