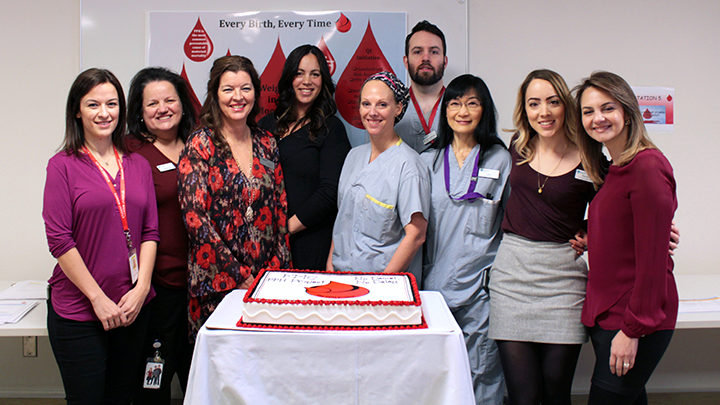 Initiative ensures prompt diagnosis and care for women who experience blood loss after giving birth
Story & photo by Andrea Juarez
CALGARY — Blood loss after giving birth is the leading cause of maternal death worldwide, and a new initiative at Foothills Medical Centre aims to improve postpartum care.
A new screening tool developed by nursing staff, physicians and a quality-improvement consultant will ensure timely diagnosis and appropriate management of postpartum hemorrhages (PPH), particularly in the hours right after birth, when the risk to mothers is higher.
"There's an increase in women who are having a significant postpartum hemorrhage and an increasing rate of women dying around the world from this preventable cause," says obstetrician Dr. Stephanie Cooper. "This seems to be predominantly due to uterine atony, or the failure of the uterus to contract sufficiently after childbirth."
The most recent data from the Canadian Institute for Health Information — whose researchers examined all 2,193,425 hospital deliveries between 2003 and 2011 in Canada (excluding Quebec) — found 122,676 cases of postpartum hemorrhage over the study period. The incidence rose to 6.2 per cent from 5.1 per cent of births.
One of the most important things to recognize is how much blood the woman has actually lost, adds Dr. Cooper. To this end, staff will measure and weigh blood loss to assist with earlier recognition and care.
As part of what's become known as the PPH Project at Foothills, every woman who presents for delivery will have a standardized risk assessment performed. As well, patient interviews, risk-factor screening tools and stage-by-stage classification of any hemorrhages will improve the team's response for women who experience postpartum bleeding.
To ensure a prompt response, there will also be a rapid-response cart with all the necessary supplies, medications and equipment available at the patient's bedside.
After each incident, staff and physicians will also debrief, and be encouraged to provide feedback, to improve future care even further.
This project was developed in partnership with MOREOB, a national comprehensive performance improvement program that creates a culture of patient safety in obstetrical units and helps teams provide the best care for mothers and their newborns.
Regular simulation drills will also help to reinforce education, confidence and overall team performance.
"This is really going to change the way we provide care," says Anita Cisecki, a clinical nurse educator. "For every single birth, we'll be more proactive in managing postpartum hemorrhage and improving patient safety.
"We believe that this will have a positive impact on all maternity-care patients, not only in Calgary, but across all of Alberta."