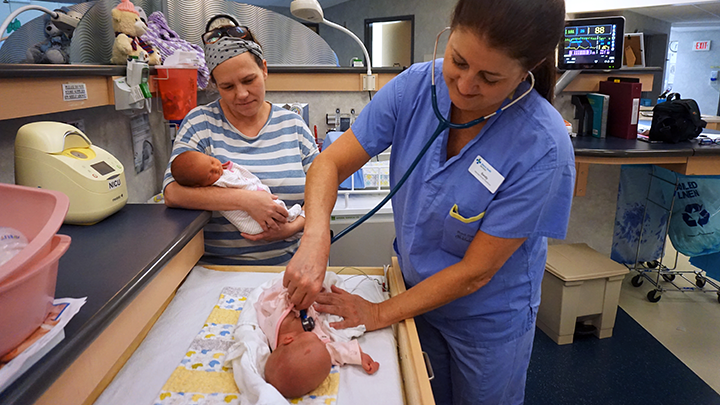 Hospital's NICU sees enhanced services for newborns and families
Story by Yolanda Genu; photo by Melissa Ballantyne
RED DEER — The neonatal intensive care unit at Red Deer Regional Hospital Centre started the year on a high note as it welcomed a valuable new arrival: Sandra Walker, the facility's first neonatal nurse practitioner.
"It can be a frightening, overwhelming experience to have a child in intensive care, and I want to do whatever I can to help not only care for their babies, but to support the parents as well," says Walker.
As a neonatal nurse practitioner (NNP), Walker is an advanced practice registered nurse with a master's degree who is specifically trained to work with newborns. She can assess, diagnose, order and interpret diagnostic tests and manage the progress of premature and sick term infants. In addition, Walker has more than 30 years NICU experience, including as a NICU frontline nurse and as a NICU transport nurse.
The position is an important first for the hospital.
"Adding this role means new services for the Central Zone community and enhanced care for newborns and families in the NICU," says Sandi Sebastian, Director of Women's and Children's Health Services at RDRHC.
New mom Melissa Vasselin concurs with Sebastian.
Madison, one of Vasselin's twin baby girls, received care in NICU — she was underweight and needed specialty care before going home to join her sister Jessica.
"I'm so grateful such a nursing role has been integrated at the site," says Vasselin, who brought Madison home 12 days later. "I think the new daily rounds with the doctor, nurse practitioner and all team members involved at the same time allowed for better communication between parents and the care team.
"It allows everybody to be on the same page."
Walker will work independently and collaboratively with the healthcare team in the Level II unit, which provides care and support for families with sick or premature babies born 32 weeks or older until they're well enough to go home.
"The NNP role is a well-accepted model throughout Canada and the United States and bringing it to Red Deer will help provide consistent care to infants and their families. It also provides an opportunity to work collaboratively with the Red Deer multidisciplinary healthcare team," says Walker.
"She will partner with pediatricians on service, ultimately helping to care for infants and families in the NICU and labour and delivery," adds Sebastian.
Across the province, Alberta Health Services has approximately 377 nurse practitioners, caring for patients in hospitals, community clinics, community care and long-term care settings.