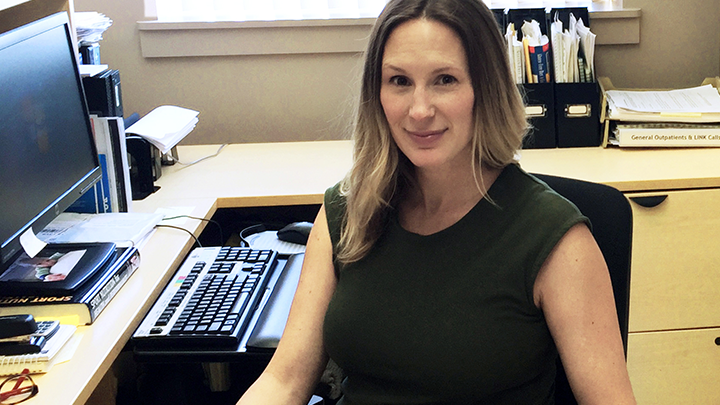 AHS dietitians give expert guidance to keep Albertans healthy
Story by Karolina Sekulic
"Variety" is the word that comes to mind to best describe Holly Bell's job as a HealthLink and outpatient dietitian.
She fields questions ranging from infant nutrition and the updated Canada's Food Guide to celiac disease, diverticulosis and how to optimize nutrition while fighting cancer.
"I love to be connected to the latest science about a variety of nutrition topics and am challenged to translate that science into nutrition information that patients can use to make positive changes in their lives," says Bell.
She shares how she helped a couple after the husband had been diagnosed with fatty liver disease. "The husband said, 'You've saved our lives', she recalls. "It might sound cliché, but it's so rewarding to know I've helped someone. It's really moving."
This March 20 marks the 10th anniversary of Dietitians Day, a day set aside to recognize the contributions of our nutrition experts.
To highlight the work they do, Nutrition Services has created four videos that feature Alberta Health Services' (AHS) dietitians with their patients and clients.
Bell adds: "With the diverse questions I get over HealthLink, I regularly reach out to other AHS dietitian content experts in areas like pediatrics, renal disease, diabetes or public health."
"We're lucky in AHS to have the knowledge and resources we do here. Everyone is always willing to share their expertise to help support Albertans."
To learn more about what AHS dietitians do, please watch our Dietitians Day videos.