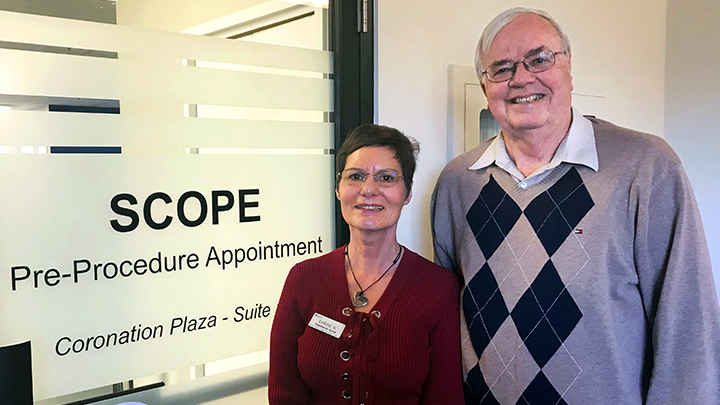 Keeping that appointment can be a lifesaver in fight against cancer
Story by Lisa Pintaric
EDMONTON — Colon cancer is among the most commonly diagnosed cancers in Alberta, and the second most deadly form of the disease behind lung cancer. But it can be prevented through regular screening.
The goal of screening is to check for the presence of polyps — abnormal growths in the colon — so that they can be removed before they turn into cancer.
One who knows is Michael Dean, who tested positive in 2018 on his Fecal Immunochemical Test (FIT), used to detect blood in one's stool, which can be a sign of pre-cancer.
In response to his FIT result, Dean was referred for a colonoscopy for further investigation. After attending his pre-procedure educational session, however, at the office of the Stop Colorectal Cancer Through Prevention and Education (SCOPE) Program, he decided to cancel his scheduled procedure.
During his phone call to SCOPE, he spoke with Registered Nurse Sabine Niebach, who talked him into keeping his appointment, by convincing him of the seriousness of his FIT results, and the importance of getting his colonoscopy.
"I talked myself into not wanting to do it. I'm a guy. I'm tough," says Dean. "The possibility of a complication, (such as) the perforation of the bowel, was one of the main reasons I didn't want to do the procedure. I also doubted that my test was positive. I was convinced that it was a false positive."
Dreaded by some patients, the colonoscopy is one of the procedures that patients skip most often. On any given day, about one in 15 patients call SCOPE to try to cancel their colonoscopy.
"It's common for patients to call and cancel the procedure," says Niebach. "They think, 'I have to go to the procedure, I have to take time off work, I have to attend this session' and the prep is extensive, too."
When Dean called to cancel, Niebach explained the benefits of the procedure and the risk of complications, to give him a fuller understanding of his situation. After their chat, Dean decided to keep his appointment.
During his procedure, Dean had a polyp removed and his physician shared the news that it had a high probability of developing cancer.
"(My doctor told me) following the procedure, 'I just saved your life'. He said that if I'd waited much longer for this (colonoscopy), I could have been in real trouble."
Dean says that he's grateful to Niebach for her support and valuable insights — and credits her with saving his life.
"Following the procedure, I sent a letter to Sabine thanking her for spending the time to talk to me," says Dean. "I think it's really important that the staff … the entire team … at the SCOPE Program know what a difference they make and what a great job they do,"
If caught early, 90 per cent colon cancers are preventable — and the colonoscopy is one of the best ways of achieve this.
Niebach adds: "It feels good to save someone's life. To see how it impacted him and prevented cancer, which is why we're here, reaffirms that we're doing good work."
March is National Colorectal Cancer Awareness Month. For more information on colorectal cancer, please see MyHealth.Aberta.ca.