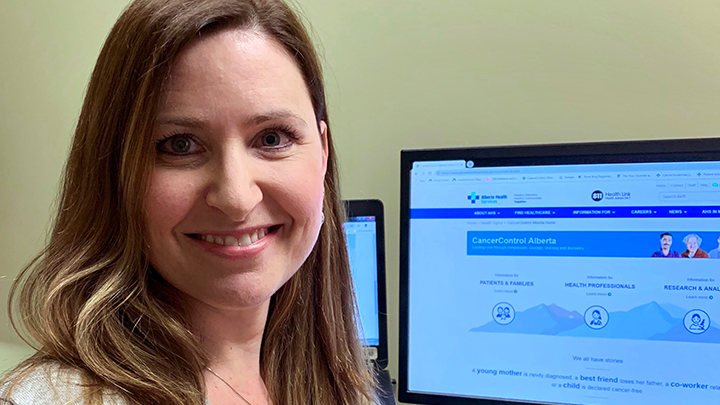 CancerControl Alberta ramps up web with more resources
Story by Elysa Meek
From wilderness to metropolis, cancer happens wherever people live. For those living with cancer, having access to information, supports and resources lets them actively participate in their care. To this end, CancerControl Alberta has designed new web pages to better support patients, families and staff throughout their healthcare journey.
"It's critical we have accessible, up-to-date resources to help patients and families, especially in times of crisis," says Eileen Wagner, a clinical educator with the Central Alberta Cancer Centre.
"Oncology patients contact us by phone to help with navigational and symptom issues — and having these resources available helps them to have current information at their fingertips, too."
These new resources also help Alberta Health Services (AHS) employees who aren't with CancerControl Alberta to work better with patients and families facing cancer.
"From primary care to inpatient units, and especially in more remote areas, these web pages help break down barriers to excellent holistic care," adds Wagner.
Spearheaded by the Cancer Patient Education team — followed by consultation with patients, families and staff — the new pages were designed and refined to reflect their input. The AHS Digital Solutions team worked diligently to incorporate the feedback and create a fluid, intuitive design.
The result? Eye-catching pages, with information organized around the patient's cancer experience.
Lisa Lamont, a clinical social worker at the Tom Baker Cancer Centre, says she's thrilled with the pages.

"The ease of finding resources, the comprehensiveness of the information and the appealing design," adds Lamont, "will really go a long way toward helping people feel empowered through easy access to current, comprehensive information that is applicable to their situation, at all points in their cancer experience."
"It makes our job easier to be able to direct people to the website or particular linked resource — or to access the document ourselves within the session — and use it as a tool in providing education."
Volunteer Karen Graham says: "I am excited about the launch of the new CancerControl Alberta webpages. They will be a very useful tool for volunteers at the Patient and Family Resource Centre as we assist patients and their families in finding health information and resources. I find the site intuitive and easy to navigate, with topics and the relevant links organized in a logical manner."
Information for Health Professionals and Research and Analytics is also available. With a focus on developing a more robust platform for patients and families, these pages will be more fully developed in the coming year.
To check out the pages, please visit CancerControl Alberta.