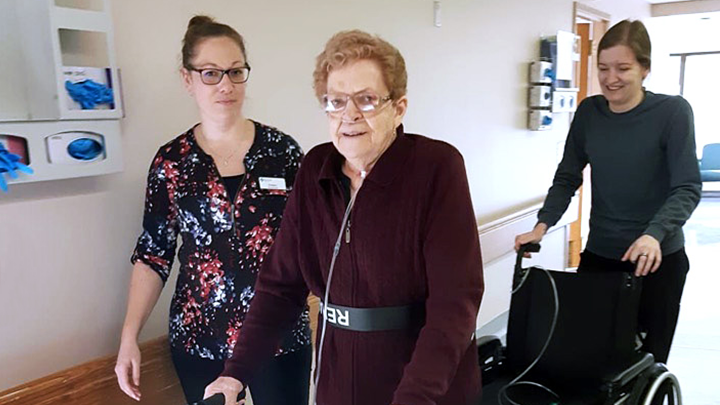 Dedicated Mayerthorpe healthcare team 'wouldn't let me give up'
Story by Amy Crofts
MAYERTHORPE — Following a heart attack and a stroke three days later, Mary 'Chris' Joy was left unable to speak.
After intensive rehabilitation that helped her regain 90 per cent of her speech, she still felt weakness on her right side.
That's when Joy's doctor referred her to Restorative Care at Mayerthorpe Healthcare Centre. This type of care provides seniors who have spent time in hospital with the support they need to eventually continue living at home.
"I want to get better and I want to maintain my independence," says Joy, 81. "I like to catch a cab downtown and do my thing. I want to go places, do things and visit my family. I don't want to go backwards."
Following two months of daily physio and occupational therapy, Joy regained most of her strength in her right arm and leg. Now at home in Whitecourt and keeping up with her exercises, Joy walks around her building's courtyard independently with her walker.
"Our goal is to help our patients regain independence so they can live at home longer and improve their quality of life," says Robyn Maddox, executive director of Seniors Health for Alberta Health Services (AHS) in North Zone.
Each person is assessed by an interdisciplinary team and given a rehabilitative care plan. They are supported with slow-paced rehabilitation, physiotherapy, occupational and recreational therapies, as well as support and encouragement to participate in social activities.
Doris Rollins' mobility was limited due to multiple cancer-related surgeries in the past year.
Following eight weeks in Restorative Care, she went from being bedridden to gradually being able to transfer herself from bed, to walking with a platform walker, and finally walking with a regular walker with assistance. With her new-found strength, she returned to her home in Clyde, about 120 km east of Mayerthorpe.
"I'm a very determined person and I was determined to walk," says Rollins. "I wanted to strengthen my legs up again — and that's exactly what I did."
AHS is also providing Restorative Care in other North Zone regions — by means of flexible transition beds in Peace River and Westlock — as well as across the province.
There are currently eight Restorative Care beds in the Mayerthorpe Healthcare Centre's Auxiliary Wing.
The program, which opened these beds to patients in March 2018, accepts referrals from across the North Zone.
"We're excited to be celebrating the first anniversary of these beds in Mayerthorpe. We see every day what a significant difference this care makes in patient's lives," says Kelsey Andersen, a physical therapist in Mayerthorpe.
Joy credits her successful recovery to the compassion of healthcare centre staff and their focus on her well-being and safety.
"Without them motivating me, I would have never been able to do this. They wouldn't let me give up," she says.
For Rollins, Restorative Care did more than just help her get back on her feet.
"The staff at the hospital were marvelous. They were always filled with so much enthusiasm and encouragement," adds Rollins. "They picked up my spirits and really helped me feel better about myself.
"Now I have an even bigger smile on my face."
Learn more about Restorative Care.