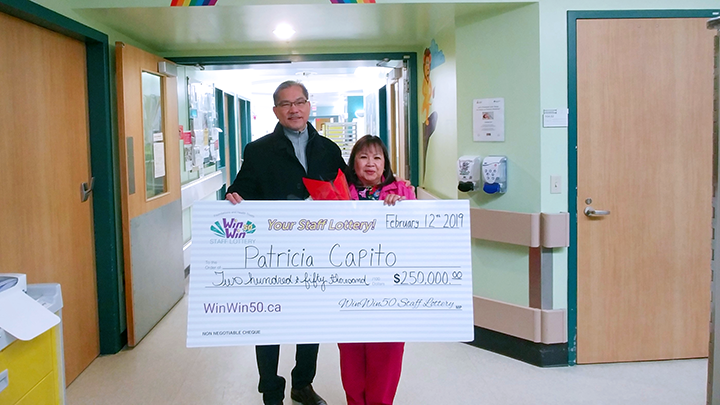 Patricia Capito pockets $250,000 grand prize in WinWin50 Staff Lottery
Story by Amelia Schofield
EDMONTON — When Patricia Capito signed up for the WinWin50 Staff Lottery, she did it as a way of giving back and had no expectation of winning. Little did she know, but she would go on to become the grand prize winner while still helping those who need it most.
Patricia and her family came to Canada from the Philippines in 1994. A social worker in her home country, she resumed her career in healthcare after her youngest child reached kindergarten age. In 2001, she joined Alberta Health Services (AHS) and is now a unit clerk at the Stollery Children's Hospital. She says her passion for giving back was instilled in her at a young age.
"My father always said, 'Whatever you can do to help people, do it'. That has always been a motivation my sisters and I have followed throughout our lives. The WinWin50 is my way of sharing what I have and having a chance to help people who need it."
Patricia and her husband Carlo are also longtime donors to Plan Canada, a charity which supports children in need across the world. When she heard about WinWin50, she saw it as an opportunity to continue helping those who need it.
"I saw an email and noticed you could sign up for only $20 a month. That's not much. You could use $20 to go out to a restaurant and eat, or spend it on something that doesn't really mean much, but this $20 out of my paycheque could go a long way."
Patricia's biggest motivation for joining the lottery was to help others — so it came as a shock when she got the call saying she'd won the top prize.
"I was off one day and the charge nurse called me and asked if I joined any lottery in the hospital, and I said only one, and that's WinWin50. She told me 'I think you won something, you better call them and call me back'."
When Patricia called, she received the news that she won the $250,000 grand prize for the 2018 lottery.
"In the back of my mind, I never thought I'd win. I actually didn't look at the grand prize," she says. "You know the feeling of it's not real? Is this a joke? Because no one calls you and tells you won $250,000. You're not expecting it!"
Winning hasn't changed her outlook on life; she continues to focus on the people she's helping with her support.
"For me, it's not so much about winning. The deductions are going to help someone and that's what matters."
Proceeds from the WinWin50 Staff Lottery are invested directly back to Alberta Area Hospital Foundations and Health Trusts, including the Stollery Children's Hospital Foundation.
Learn more about the WinWin50 Staff Lottery and how to participate.
AHS recognizes May as Health Philanthropy Month. Throughout the month, we're celebrating physicians and staff who generously support our foundation partners across Alberta. See how you can make a difference at ahs.ca/give.