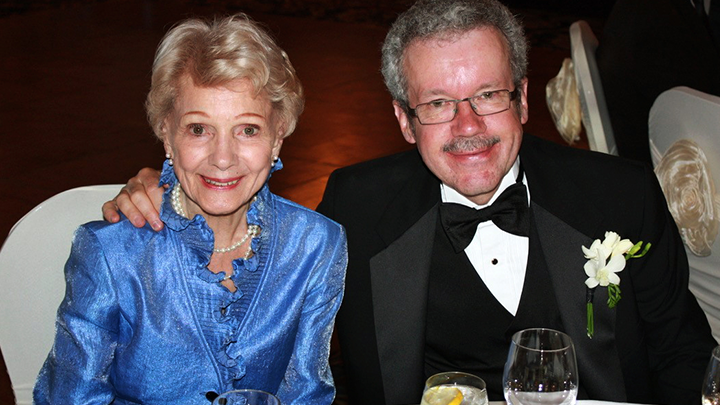 Dr. Randy Williams enjoys the company of his mother Doreen Walters, now retired from nursing. After graduating from nursing school in 1950, she enjoyed a fulfilling career at the Royal Alexandra Hospital, inspiring Dr. Williams to follow her path into medicine at the Royal Alex.
Dr. Randy Williams draws inspiration daily from nurse's example
Story by Vanessa Gomez | Photo courtesy of Dr. Randy Williams
For cardiologist Randy Williams, the Royal Alexandra Hospital brings fond memories of his childhood as he makes his rounds. It's where his mom worked as a registered nurse, where she brought him into this world, and where his daughter carries on in his mother's footsteps.
"I feel very fortunate and proud to be able to share this unique bond with my mother," he says, brimming with pride at his mom's accomplishments and her positive influence on his career.
After graduating from nursing school in 1950, his mother Doreen Walters enjoyed a fulfilling career at the Royal Alex before having children and later moving on to the University of Alberta. Dr. Williams has fond memories of his mother discussing her profession and accompanying her to work since Grade 3.
"I would often meet her at work. I became acclimatized to the doctors' offices quite early on," he reminisces. "I was exposed to the medical field at a very young age, and I was more interested in the biological sciences."
Through his mother's experiences as a nurse, Dr. Williams was inspired to forge his own path into healthcare. He remembers his mother was nothing but supportive, encouraging and excited as he pursued his passion.
He graduated from the U of A's Faculty of Medicine in 1977, then spent nine years in Whitecourt in a general rural practice. Shortly after, he specialized in cardiology and returned to practise at the Royal Alex.
"I love cardiology because it's so logical," says Dr. Williams. "You get to help a lot of patients and their families as they get through their illnesses."
His daughter Elizabeth Dyck apparently loves cardiology as well, and works as a Registered Nurse in the Cardiac Care Unit at the RAH.
Walters, who turns 93 this fall, instilled in her son important lessons about honesty, respect and dedication — qualities that he brings to his practice every day.
"If I was going to be a doctor, I had to be a good one and that takes a lot of work and discipline," he says. "Being honest with your colleagues and patients, having respect and fully dedicating yourself to your practice are very important to me — and were all things I grew up watching my mother carry out."
To this day, Walters retains her deep love for the Royal Alex, and attends almost all of her nursing-school reunions to celebrate the unique bond she shared with her classroom friends.
Dr. Williams says he's never second-guessed his decision to practise where his mother launched her career.
"I have no regrets about what I do," he says. "I'm very grateful to walk in my mother's footsteps here at the Royal Alex."
Mother's Day 2019 falls on Sunday, May 12.