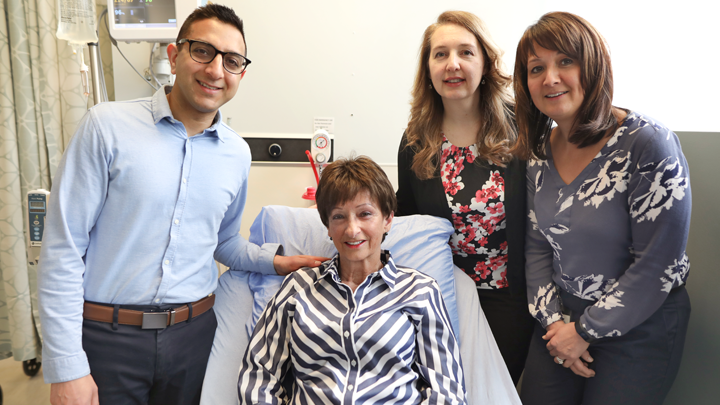 Judy Rutley was one of the first patients at the Tom Baker Cancer Centre in Calgary to receive some of her treatment as an outpatient after the Blood and Marrow Transplant area extended its hours of operation. She's joined by, from left, her oncologist Dr. Kareem Jamani, Carol Baumgarten, Director of Cancer Care Teams at TBCC, and Naree Ager, Manager of the BMT area.
Some able to receive chemotherapy as outpatients
Story by Greg Harris | Photo by Leah Hennel
When a diagnosis of cancer turns the world upside down, it can be reassuring to maintain some familiar routines with family and friends – away from the stressful environment of a hospital.
Just ask Judy Rutley, who was able to receive some of her chemotherapy as an outpatient as a result of an extension in hours in the Blood and Marrow Transplant (BMT) treatment area at Tom Baker Cancer Centre in Calgary.
After initially being admitted to hospital for an intensive course of chemotherapy for an aggressive form of leukemia, Rutley was able to go home and return for subsequent treatments twice a day at the BMT clinic.
"To be able to leave the hospital and stay at my daughter's was a delight," Rutley says. "Getting an opportunity to go home for different clothes, relax with visitors in a home environment, or have some home cooking – these times proved easier and less stressful on my very supportive family and friends."
Hours of service at the BMT treatment area increased in early 2017 to 7 a.m. to 7 p.m., Monday to Friday, and 8 a.m. to 4:30 p.m. on Saturdays and Sundays. Prior to the change, the clinic was closed weekends; weekday hours were limited to 8 a.m. to 4:30 p.m.
The impact has been significant: in 2017/18, the BMT treatment area saw 8,641 patients, compared to 5,697 in 2016/17. Additionally, some patients undergoing stem cell transplants have been able to complete some of the preparatory chemotherapy as outpatients.
"Helping patients get home sooner while providing them with the same safe and quality care as outpatients is a huge plus," says Carol Baumgarten, Director, Cancer Care Teams, at Tom Baker Cancer Centre.
"Extending the hours has ensured that patients are treated by the right provider, at the right time and in the right place," she adds. "It's allowed us to move some protocols that were given as inpatients to outpatients, thus increasing the focus on patient- and family-centered care."
A further benefit of the extended hours has been to free up hospital beds on Unit 57B for other cancer patients. The extended hours have translated to an estimated savings of 100 inpatient days, or $197,000 savings in one year.
The Cross Cancer Institute (CCI) in Edmonton also offers a Blood and Marrow Transplant program, which runs 8 a.m. to 4:30 p.m. Monday to Friday. Patients may be seen on weekends through the CCI Inpatient Department as required. CCI performs autologous transplant (stem cells from self), while the Tom Baker Cancer Centre does both autologous and allogenic (stem cells from donor) transplants.
Rutley's oncologist, Dr. Kareem Jamani, says patients benefit in several ways when they're allowed to receive some of their treatment as outpatients.
"Most of them probably do better when they're taken out of the institutional environment," he says. "Patients say that when they're at home they're up and moving around more, they eat better, and they have a sense of normalcy – that life is continuing."
Rutley says she still felt well-supported outside the hospital by being able to contact the clinic anytime she had a concern. "They told me if you have a question, always call. And I did actually call them – a couple of times."
Naree Ager, Manager of the Blood and Marrow Transplant Clinic, credits the work of staff and colleagues from several different areas for making the extended hours a success.
"Pharmacy, physicians, Infection Prevention and Control, and Unit 57 came up with the solutions needed to help make the new initiative a reality," she says. "And making it operational wouldn't have been possible without the support of nurse clinicians, educators, frontline staff and clerks."
Today Rutley considers herself fully recovered from a stem cell transplant in March 2018 that used donor cells from her brother.
"This entire acute myeloid leukemia and stem cell experience has maintained my respect, trust and belief in the Tom Baker team and program," Rutley says. "I thank them and my brother daily for my beautiful life today."