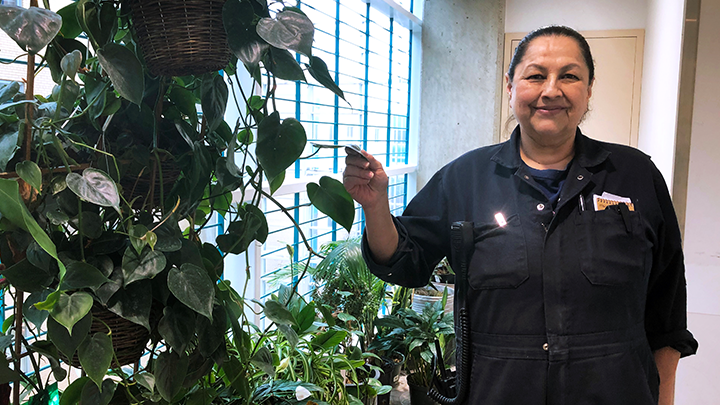 Colleen Bowers carefully tends to the greenery in her 'plant hospital' on the top level of the Royal Alexandra Hospital. She's often here to rehabilitate or re-pot plants to ensure greenery thrives and beautifies the site.
Garden guru Colleen Bowers creates spaces of comfort and tranquility
Story & photo by Vanessa Gomez
EDMONTON — If plants could talk, they'd tell you their best friend at the Royal Alexandra Hospital is Colleen Bowers, a devoted horticulturalist who's been tending to greenery and gardens here for 22 years.
"I like to plant things and see them grow," says Bowers, who works in Facilities and Maintenance. "I get to see lots of patients and their families just relaxing and enjoying the spaces."
Even through Alberta's long icy winters, Bowers keeps beauty alive and thriving at the Royal Alex (RAH) for patients, families and staff to enjoy. With indoor and outdoor gardens and potted plants throughout the facility, her green thumb preserves the tranquility and comfort in spaces made possible by groups such as Facilities and Maintenance, the Women's Auxiliary and the Royal Alexandra Hospital Foundation.
Hailing from a farming background, Bowers began her RAH journey 39 years ago in women's health. After gaining experience in women's dietary and respiratory, she made her way into facilities.
Bowers also proved instrumental in the 2018 creation of the RAH Indigenous Garden. She chose its plants and arranged their patterns, with the help of volunteers from the Indigenous Health Program and across the site. Today, she keeps it flourishing.
"I try to make the spaces as beautiful and healthy for people to de-stress and look at some greenery during our gloomy winters," says Bowers.
"Some of the trees in the building kind of overhang, and families can nestle underneath together and enjoy each other's company. It almost seems like they're in a completely different atmosphere."
Bowers says she strives to make the gardens as pleasing and comforting as possible by creating designs in the flowerbeds for people to admire from their rooms above.
Her busy days at the RAH fly by as she waters, nurtures and rehabilitates plants. As well, she mentors her colleagues in the art of gardening and credits their teamwork as key to keeping the Royal Alex looking its best.
Her hard work and enthusiasm have not gone unnoticed.
"Colleen is a very dedicated employee always willing to go above and beyond," says Calvin Smith, manager of Facilities and Maintenance. "She's always willing to step up and take care of any work you put in front of her. If you ask her to get something done she will get it done — plus think of other items that would better the safety or appearance of the site and benefit the patients and staff."
Bowers adds: "Although I've been here for so long, I never get tired of my work. I still like to take a step back and admire everything — and see everyone enjoy the spaces. That makes me smile."