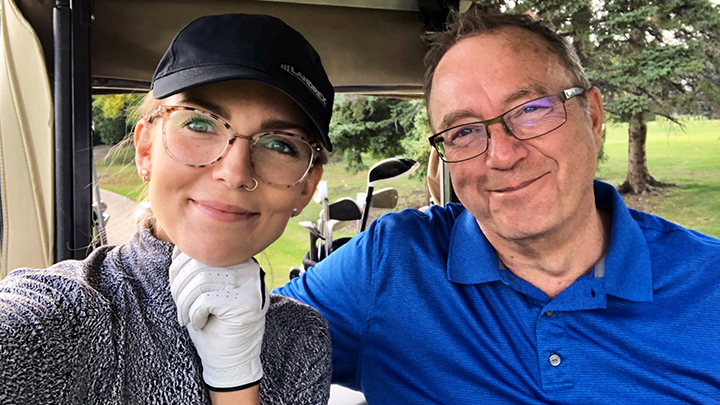 Dr. Jocelynn Gray and her father Dr. Shaun Gray are part of a medically motivated family. Jocelynn, a fourth-year resident, plans to be a physiatrist, just like her dad. She grew up watching him interact with patients and seeing how it makes a difference. Now she's making those same positive impacts herself as she launches her career.
Medicine a family bond and inspiration for doctors Shaun and Jocelynn Gray
Story by Kirsten Goruk
EDMONTON — As a little girl, Dr. Jocelynn Gray and her sisters used to dress up as elves at Christmas and visit patients at the Halvar Jonson Centre for Brain Injury (HJCBI) in Ponoka. Their dad, Dr. Shaun Gray, would play Santa Claus.
While Shaun initially pursued a career more focused on research, his daughter Jocelynn, on the other hand, knew exactly what she wanted from an early age.
"My parents are in the process of moving and, in going through my old things, I found a letter to my future self that I wrote in Grade 6 saying I wanted to be a dermatologist or pediatric physiatrist. That last one will be half-true," says Jocelynn, a fourth-year physical medicine and rehabilitation resident with the University of Alberta.
Shaun graduated from the University of Calgary's medical program in 1985. His earlier PhD in neuroscience from the University of British Columbia fueled an interest in research, but then he got a real feel for clinical medicine during med school, and a subsequent residency with a new specialized focus. He soon realized the impact he could have in helping patients in the specialty of physical medicine and rehabilitation.
Jocelynn has fond memories of her father's earlier time as a family physician and his eventual move into physiatry.
"As a kid, I was always interested in his patients and in what sort of work was being done there," she adds. "I've also just always liked similar things to my dad. Although I'm very close to my Mom as well, everyone says I'm my dad's twin."
Shaun has recently semi-retired, now spending a few days a month at the Glenrose Rehabilitation Hospital (GRH) and a few days at the HJCBI.
His wife, Lori, is a psychologist. He feels that together, they've set an example that their daughters can successfully pursue careers and have a family life.
"It's awesome. I'm very proud of Jocelynn, as I am of my other daughters, who also work in healthcare; one is a respiratory therapist and one is an occupational therapist," Shaun says.
"It's gratifying that your kids have the same sorts of interests — that you've had that positive influence on them. I hope Jocelynn finds it as rewarding a field as I do."
Father and daughter both love how their field lets them focus on improving a patient's quality of life and helping them to regain independence after injury or illness.
Every once in a while, Jocelynn gets to see her dad in his element, while she finishes up a four-month rotation on neuromuscular diseases in the Electromyography Lab at the GRH.
This weekend, Jocelynn and her husband are heading down to Lacombe to celebrate Father's Day and some family birthdays.
"The best gift we can give my dad is time with his family," she says. "He's an awesome dad, but I think being a granddad is his favourite."