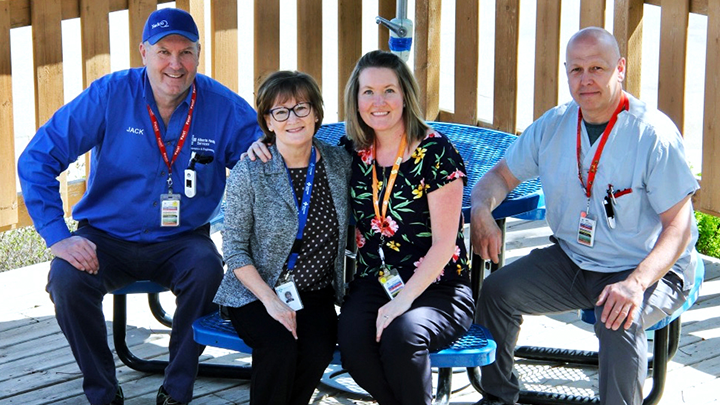 John and Rhoda Keating, left, and Cora and Michel Therrien strike a family pose. All four have worked together for six years at the Northern Lights Regional Health Centre in Fort McMurray.
Foursome love coming to work together at Northern Lights
Story by Logan Clow
FORT McMURRAY — While '10 Together' is the theme for Alberta Health Services' 10th anniversary, members of the Therrien family could call their own celebration '6 Together' at the Northern Lights Regional Health Centre in Fort McMurray.
For six years, a family foursome — Cora and Michel Therrien, who both work in Diagnostic Imaging, and her parents Jack and Rhoda Keating, who work as an electrician and file clerk — have worked at the centre.
"Sometimes people don't realize that we're all related, and all work together here," says Cora, manager, Diagnostic Imaging (DI), North East.
"Even some of our colleagues are only now realizing that Cora and I are married," adds Michel, a clinical educator and Medical Radiation Tech (MRT) supervisor.
Married for almost 17 years, Cora and Michel met while working in diagnostic imaging at New Brunswick's Bathurst Regional Hospital in 1999, and have worked together in DI ever since.
In October 2008, the couple moved with their three children to Fort McMurray.
"Fort McMurray has been a great place to raise our family," says Michel. "Cora and I are quite involved within the community, especially with our kids' sports and extra-curricular activities."
"It's also such a supportive environment here at the hospital," adds Cora. "We all really like coming to work every day. Michel and I were both here when Alberta Health Services was established in April 2009 — and it's been exciting to watch AHS grow."
Jack and Rhoda moved to Fort McMurray in the fall of 2013. Prior to his arrival, Jack spent six years travelling between Fort McMurray and New Brunswick for work.
"When I was travelling for my former construction job, Cora kept telling me that we had to move to Fort McMurray permanently," says Jack. "Both Rhoda and I really liked the community; it's where our grandchildren are.
"It's neat that we're all able to work together now. It's also funny in a way, because when Cora was younger, we didn't get to see her as often after she left for college. Now, we've seen her more in the past six years than we ever have."
Jack was eventually hired on as a hospital electrician. A few months later, Rhoda came aboard as a file clerk. Previously, they worked together for 20 years at an electrical company.
Rhoda says she's grateful for the opportunity to be surrounded by family.
"We live in Cora and Michel's downstairs apartment, so we get to see our grandchildren a lot more," says Rhoda, due to retire this month. "It's just been so special for Jack and I to see the grandchildren grow up.
"Even though they're getting older, we still entice the grandchildren to come down and say 'hi' by putting out sweets and treats. I always make sure our cookie jar is full."
They make a point to keep work conversations to a minimum in their household.
"There's been times we'll say, 'let's stop talking shop and talk about something else'," says Michel. "I think we're really good at doing that."
Even though they all see each other every day on the job, they never run out of things to talk about.
"It's really special to be together as a family and doing work that we love," says Cora. "Being able to work together and live together has really brought us even closer as a family."