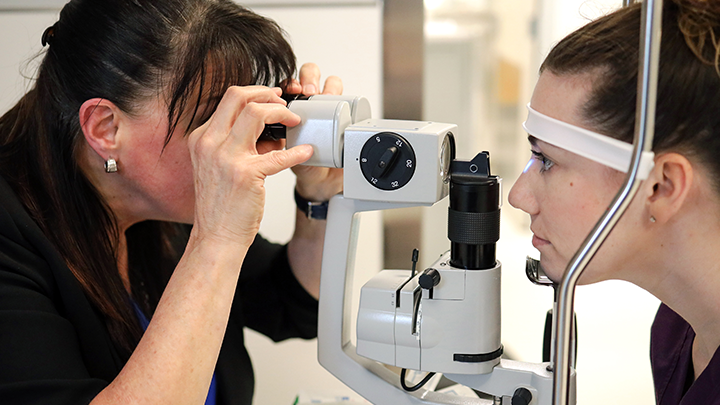 Dr. Wilhelmina Nell, left, is the facility medical director of Advanced Ambulatory Care at the Sylvan Lake Community Heath Centre. Since its launch last year, the Advanced Ambulatory Care Service has seen more than 15,000 visits.
Advanced Ambulatory Care Service marks first anniversary
Story by Melissa Ballantyne | Photo by Leah Hennel
Although Sylvan Lake's Advanced Ambulatory Care Service (AACS) just turned one year old, it's made a huge difference for resident Elisha Thate and thousands of others in the area. With more than 15,000 visits to date, it's become clear to AACS staff that they've been embraced by their community.
"I will be forever grateful we have this service in our community," says Thate. "I have three boys under the age of 8 and we have used AACS several times already. From stitches, a broken arm and big falls, it's been great being able to get things taken care of quickly in town."
Located at the Sylvan Lake Community Heath Centre, AACS began operating in June 2018, offering treatment for urgent, but non-life-threatening conditions.
And with more than 15,000 visits to date, it's become clear to AACS staff that they've been embraced by their community.
"It's been a very exciting first year," says Christine Farries, AACS site manager. "We've been well received and have seen steady patient flow since day one. Overall, I am so proud of the service and level of care we're providing to the community."
AACS is intended for patients with unscheduled health needs, particularly when care is required within 24 hours. Those include urgent, but non-life threatening conditions, such as minor allergic reactions, cuts, scrapes, burns, bone fractures or strains and sprains.
It is not for life-threatening emergencies, including heart attacks, signs or symptoms of stroke, amputation, head trauma or seizures. Nor is it to be used in place of a walk-in clinic or visit to a family doctor for routine procedures such as wart removal, mole checks or the completion of forms such as drivers' medicals or pre-op assessments.
"We really have seen a bit of everything in the last year, and many levels of acuities," says Dr. Wilhelmina Nel, facility medical director. "Ear, nose, throat, abdominal pain, fractures, diabetic emergencies, influenza — we've pretty much seen the gamut."
Work to establish AACS in the community began in 2016 through the efforts of a joint task force involving members from Sylvan Lake and surrounding communities and Alberta Health Services (AHS) who explored ways to enhance healthcare services for the area.
Much of the medical equipment needed was made possible through the Sylvan Lake and Area Urgent Care committee which, to date, has donated over $238,000.
"The addition of this service to the community has been nothing short of fabulous," says Susan Samson, committee chair. "When the doors opened this time last year, we just couldn't believe what AHS was capable of building here. The facility is great; it's bright, it's warm, it's inviting — and the staff are super."
Leaders and staff have high expectations for their continued level of service and want to ensure the community continues to embrace them, particularly over the next couple of months as the busy tourist seasons kicks into high gear.
"We know the number of patient visits will increase," Dr. Nel says. "There will be a lot of water and outdoor activity-related illness like sunburn and dehydration. We're ready for that; we can treat those and administer IV fluids here on site."
Thate concurs, adding: "For me, this service couldn't have come at a better time."
Advanced Ambulatory Care Service can be accessed seven days a week from 7:30 a.m. to 10 p.m.