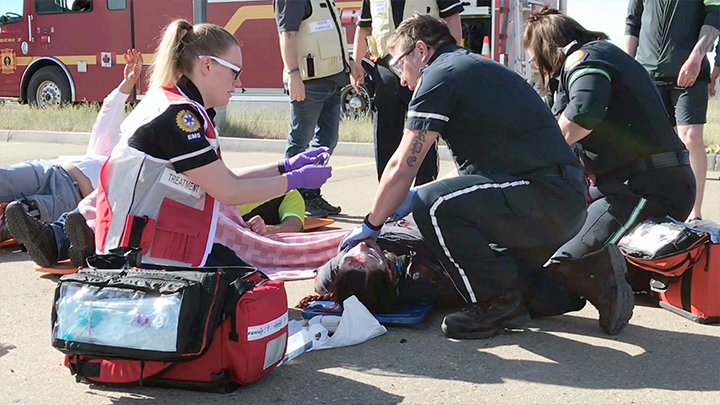 Patient actor receives 'treatment' from AHS' Emergency Medical Services team as part of large-scale emergency exercise.
Medicine Hat Regional Hospital participates in emergency exercise
Story Jennifer Vanderlaan | Photo by Patrick Burles
When a truck carrying liquefied petroleum gas exploded and collided with several vehicles in Medicine Hat's Canalta Centre last month, Alberta Health Services (AHS) front-line staff were ready.
Luckily, the 'accident' was actually a large-scale emergency simulation, helping healthcare staff to be at their best when things are at their worst.
"Exercises of this scale don't happen often, but they are important as the end point of an education process because that's where everything comes together," says Jeff Dutton, director of Emergency Disaster and Management South Zone.
AHS' Medicine Hat Regional Hospital, Emergency Medical Services (EMS) and Public Health partnered with the City of Medicine Hat, the Medicine Hat Police Service, the Medicine Hat Fire Department, and the Royal Canadian Mounted Police during the mock disaster. In all, more than 600 people were involved, including actors, observers, facilitators, mentors and volunteers.
As the 'crisis' unfolded, EMS determined there was a potential for mass casualties. The hospital then declared a Code Orange standby, which gave it time to prepare for an influx of patients to the emergency department (ED).
"We focus on three areas to determine if a Code Orange should be activated," says Breea Tamminga, AHS Emergency Management Officer. "If there is not enough staff to support the response, enough beds to support the influx of patients, and/or enough resources to help injured patients, then a Code Orange needs to be declared."
In the emergency simulation, a Code Orange was announced over hospital loud speakers, and a command post established to make sure there was enough space in the ED to accommodate large numbers of patients, and that there were enough doctors and nurses on hand to deal with the situation.
"We only have so much room in the emergency department and only so many staff and supplies," says Dutton. "The emergency department will need support from the rest of the hospital and, potentially, the zone."
The exercise was all about working with community partners before a real emergency occurs. Training together in a practice environment helps find out what works, what doesn't, and what could be improved.
"We practise full-scale emergency situations every few years," says Merrick Brown, director of Health, Safety and Environment and Emergency Management for the City of Medicine Hat. "It's a great test for every organization involved to make sure we are ready in the event of an emergency."
Emergency exercises include sharing each organization's emergency response plans.
"There may be information in other plans that could affect the hospital, such as stating the hospital is a safe place for the public to go in the event of an emergency," says Tamminga. "If we know that in advance, we can plan for that response as well."