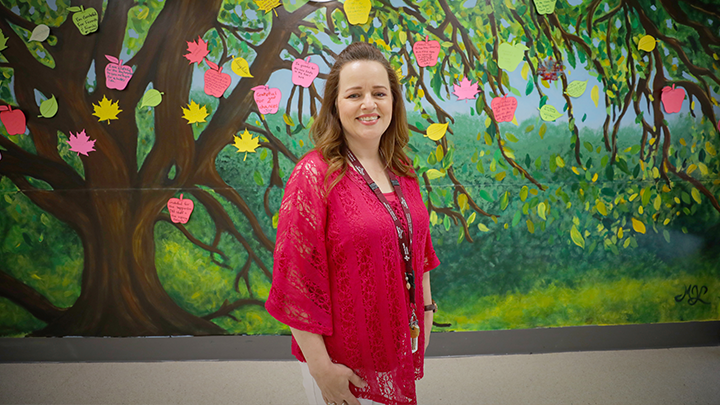 Registered nurse, Myrna Landers, stands in front of the Gratitude Tree mural at Alberta Hospital Edmonton. The mural helps patients at the day hospital practise gratitude by writing what they are grateful for and posting it on the leaves of the mural.
Mural helps patients recognize the positive
Story by Vanessa Gomez | Photo by Leah Hennel
When Myrna Landers was asked to paint a mural for the day hospital at Alberta Hospital Edmonton (AHE), her first reaction was, "I've never done a mural before."
However, the registered nurse and artist was ready for the challenge. She spent more than three days, working 10 hours each day, to add a splash of colour to the walls of the day hospital.
The result? A Gratitude Tree, which provides a stark contrast to the white room it occupies. Patients can write what they are grateful for on the leaves of the Gratitude Tree and their words then become part of Landers' art.
"I am thankful for the support of the staff and fellow patients of the day hospital in knowing that I am not alone on this journey," one of the leaves reads.
"There has recently been a lot of research and studies outlining the benefits of gratitude," says Mike Mach, manager of the day hospital. "We live in a time when we are either too busy worrying about yesterday or planning for tomorrow and we often miss the moment that really matters the most—the present. The practise of gratitude helps us shift our attention to embrace and acknowledge all the good that we have right now."
During a patient's stay, they can join the Gratitude Group, which uses journaling as part of their healing.
Since unveiling the tree, several gratitude leaves have been posted with patients expressing thanks for their families or friends, the opportunity for a second chance at life, and the supportive staff at AHE.
"Taking time to notice and reflect upon the things we're thankful for can have significant therapeutic value and can increase our well-being and life satisfaction," Landers says. "We learn to focus our attention and acknowledge that 'life is a gift' and, in turn, experience more positive emotions and express more compassion and kindness."
As part of AHE's five year strategic plan, Ambition 2023, AHE is planning more art renewal across its campus with support from the Mental Health Foundation and the Alberta Art Mentorship Society of Alberta. The goal is to get input from patients and families in the art renewal work.