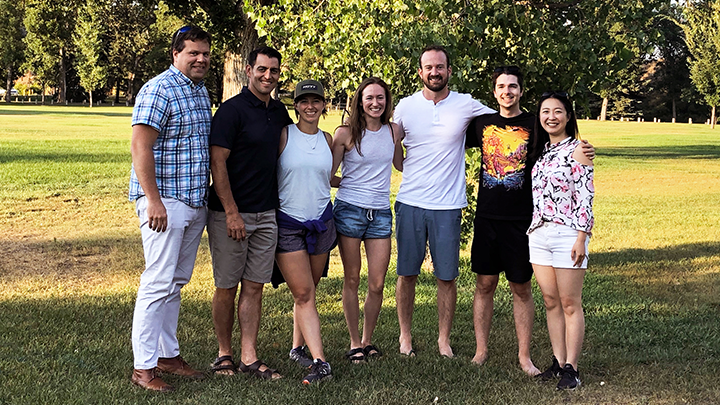 Seven doctors arrive in Medicine Hat to begin a two-year rural residency program.
Seven newly graduated physicians arrive in Medicine Hat for two-year residency program
Story by Jennifer Vanderlaan | Photo by Patrick Burles
Fourteen newly-minted doctors, who arrived recently in southern Alberta, are working side-by-side with local family physicians, learning the ropes of rural healthcare.
The residents have begun the two-year Rural Family Medicine Residency Program, where they train with local physicians to acquire the skills necessary to perform in rural and sometimes remote settings.
"This creates a unique learning experience for residents," says Dr. Lena Derie-Gillespie, Medical Officer of Health, Alberta Health Services and Co-Director, Rural Residency Program, University of Calgary Department of Family Medicine. "It gives them the chance to experience and address the broad demands of practising family medicine in a rural location."
Alberta's increasingly diverse population and its large rural—and sometimes remote—communities, have made recruiting rural physicians a challenge. Programs such as this help even out the distribution of physicians across the province, with 70 per cent of residents from the residency program choosing to stay and work in rural Alberta.
Dr. Wade Walters, a resident physician in the program, has an appreciation for healthcare in rural areas.
"Having lived in a small town in Alberta, I see how important it is that healthcare be provided locally," says Dr. Walters. "This program is a perfect opportunity for me to train rurally and hopefully increase my chances of being able to practice family medicine in rural Alberta."
A focal point of the program is to ensure residents are trained in the area where they will have their practice. This gives them the chance to learn what rural family medicine involves, and provides them with the opportunity to build relationships with local patients, doctors, healthcare professionals and the community.
The program is a partnership between Alberta Health Services (AHS) and the University of Calgary (U of C). Each year, seven residents are accepted in both Medicine Hat and Lethbridge.
"It's important that our residents have the support and guidance of an academic institution," says Dr. Derie-Gillespie. "Having the resources of both AHS and the U of C at their fingertips helps these residents understand and experience the broad spectrum that is family medicine."
Dr. Kristine Woodley, originally from northern Ontario, completed the program in Medicine Hat in 2013 and remained there as a family physician with a special interest in palliative care.
"Part of the experience is living in rural communities," says Dr. Woodley. "The communities I worked in across southern Alberta helped me succeed in the program. I was exposed to all aspects of family medicine and that exposure helped me learn more about how I want to practice. I came out of the program feeling prepared to work as a physician in rural family medicine."
The program has gained popularity over the years, attracting medical school graduates from across the country.
"The fact that we've been able to train residents who are here currently working as family physicians is impressive," says Dr. Derie-Gillespie. "Not to mention, it's a great way to keep this knowledge building and growing in our community."