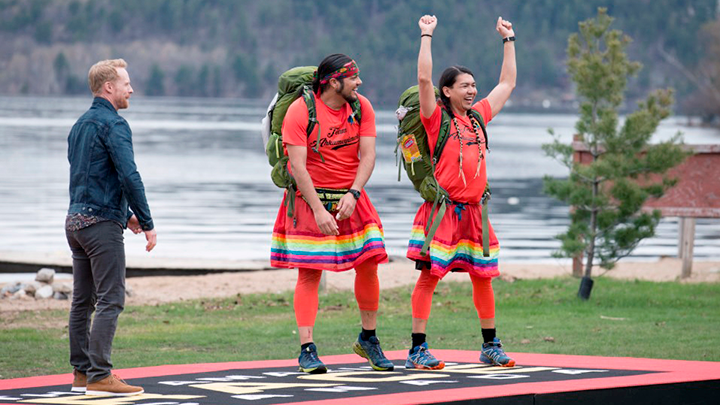 Indigenous team takes top prize in national reality TV show.
Indigenous team takes top prize in national reality TV show
Story by Shelley Boettcher; photo courtesy of CTV
Dr. James Makokis and Anthony Johnson have become the first Indigenous, two-spirited couple to win The Amazing Race Canada.
The couple competed as Team Ahkameyimok on the seventh season of the show, which wrapped up Tuesday, Sept. 10. It aired on CTV. Their prize includes $250,000, an around-the-world trip for two and two new vehicles.
"I've been describing winning as that feeling when you finally graduate from medical school but magnified 100 or 1,000 times," Makokis says.
The show started in Toronto and travelled across the country before finishing back in Ontario. Ten teams—including Makokis and Johnson—took part in challenges that included perfectly planting 40 tree seedlings, ziplining above an open-pit mine and collecting flags while paddling kayaks tied together in opposite directions.
Appearing on The Amazing Race Canada gave the couple an opportunity to share some Indigenous cultural beliefs. It also drew national attention to issues faced by Indigenous women and members of the LGBTQ2S+ community.
For Makokis, however, the hardest part of the competition was a memory challenge. He had to pretend to be the Prime Minister of Canada and recite a speech in French and English about human rights.
It reminded him, he says, of his father's experience at residential school in Alberta. "It's easy to say the residential schools happened 10, 20, 100 years ago, but they're still affecting Indigenous people today," Makokis says.
"Human rights, the rule of law—these things have not been respected for Indigenous people. Having to struggle through that speech was very difficult."
Makokis, an Edmonton physician, comes from the Saddle Lake Cree Nation northeast of Edmonton. He is a former chair of Alberta Health Services' Wisdom Council. He now practises at Edmonton's South Common Medical Centre, where he specializes in transgender health and medical hormone transitioning. He also works on the Kehewin Cree Nation southwest of Cold Lake.
Johnson is a project consultant for Kehewin Health Services. He comes from the Navajo Nation in Arizona, U.S.A.
The couple intends to use the attention surrounding their win to continue fundraising efforts for a cultural healing centre on the Kehewin Cree Nation. (Go to www.gofundme.com/restoreharmony to find out more.)
And they can't wait to enjoy their Amazing Race prizes—especially the trip around the world.
"Anthony and I got married in 2017 and we didn't really have time for a real honeymoon," Makokis says. "We're looking forward to escaping winter in Edmonton this year and travelling to some beautiful parts of the world."