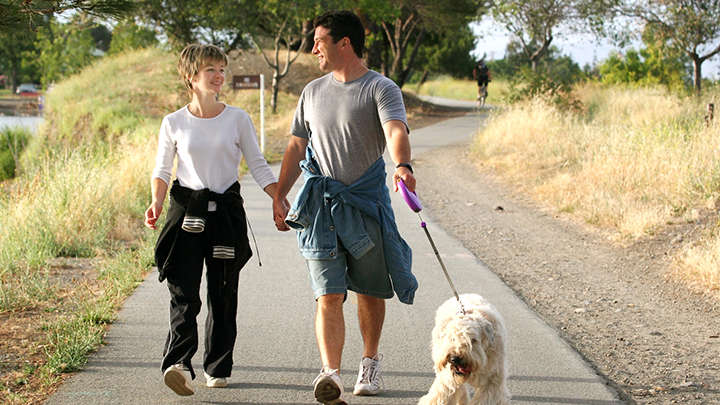 Protect your dog from tapeworms by walking it on a leash.
Hygiene best defence against parasite spread by coyotes, dogs
Story by Lisa Pintaric
Alberta Public Laboratories (APL) is working with Alberta Health Services and Alberta Health to raise awareness about the European strain of a tiny tapeworm found in coyotes that is now being found in humans.
"In 2013, our lab diagnosed the first patient in Alberta with this strain of tapeworm (E. multilocularis) which is a parasite. Since then, there have been an additional 13 confirmed cases," says Dr. Kinga Kowalewska-Grochowska, a medical microbiologist and parasitologist at APL.
Kowalewska-Grochowska worked in conjunction with Dr. Alessandro Massolo and Dr. Claudia Klein, of the University of Calgary to discover this new infectious strain of E. multilocularis in Alberta. Their work was recently published in the New England Journal of Medicine.
Earlier studies of coyotes, foxes and rodents in the province found a high incidence of infected wild animals across Alberta. The infection is spread through coyotes and dogs which can become infected from eating infected rodents.
The parasite's eggs can be found in fruit and vegetables and on the fur of infected pets. Hunters, trappers and farmers should be mindful of the possibility of tapeworm — and use proper hand-washing hygiene to protect against it.
The collaboration of medical experts hope that early diagnosis will become more common and, like most things in healthcare, APL's diagnosis role involves teamwork.
"Detecting and monitoring strains of diseases, such as E. multilocularis, is an example of the role of APL in the surveillance of emerging pathogens, says Graham Tipples, medical-scientific director of public health at APL.
"The lab works closely with infectious disease experts, other lab partners, such as pathologists, and public health partners to detect and diagnose emerging diseases."
Initially, cases were confirmed in central and northern Alberta, but recently there have been confirmed cases in southern Alberta. In suspected cases, it's important for testing and treatment to be started as early as possible.
"E. multilocularis can be detected by an ultrasound of the liver and blood test for antibodies," adds Kowalewska-Grochowska. "Treatment is available while a vaccine is in the works for this parasite."
If left untreated, after several years patients may experience stomach pains, appetite loss, jaundice and weight loss.
"There are only a handful of these cases in Alberta," says Tipples. "The public should not be alarmed but can still protect themselves by awareness of this disease and following good hand-washing hygiene."