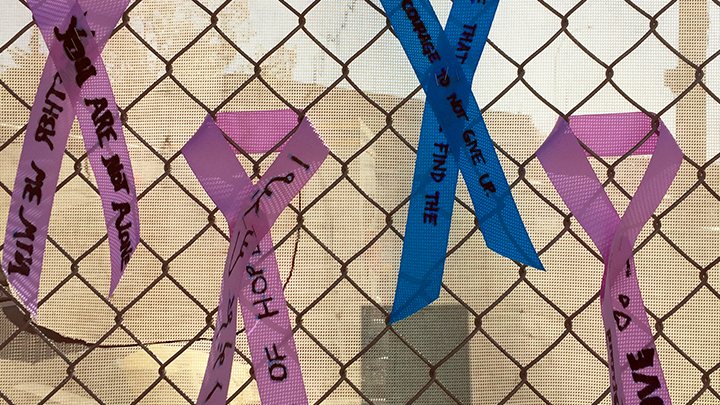 A few of the inspirational ribbons — each adorned with messages of love and hope — hang on the construction fence at the new Calgary Cancer Centre.
Campaign inspires messages of love and hope for construction fence of Calgary Cancer Centre
Story by Catherine Anderson & Jennifer Green

CALGARY — Hope Ties Us Together is a campaign that encourages Alberta Health Services staff, patients and visitors to write messages of hope on ribbons destined for the construction fence of the new Calgary Cancer Centre.
The campaign was born when PCL Construction provided a progress update on the new centre to the Patient & Family Advisory Council (PFAC) — and the conversation quickly turned to how a connection could be created between the healing work already happening in CancerControl Alberta and the new building.
"Encouraging people to write a message on a ribbon gives them a very unique and powerful opportunity to show what the new Cancer Centre means to them," says Donna Oswell, a patient and family advisor.
"Together this wonderful project will contribute to the development of a sense of community which is vital for the new Calgary Cancer Centre."
The ribbons, in both blue and lavender, are located at reception areas throughout Tom Baker Cancer Centre (TBCC) or in the Garden Deli at Foothills Medical Centre for visitors, patients and staff to write their messages of hope.
Toby Hendrie, project lead, PCL Construction Management, adds: "We were already proud to be 'building hope' at the new Calgary Cancer Centre, but the messages on the ribbons really reinforces the importance of the new facility to staff, patients and their families.
"The construction team have also started adding their own personal and inspirational messages of hope, support, remembrance and survival."
To date, more than 200 ribbons have been collected and attached to the fence at the construction site.
Messages of love and hope to date include:
"Building strength together."
"Fight all the way!"
"TBCC is a healing and caring place."
"I miss you grandma and grandpa – You're always in my thoughts!"
"So grateful we will have this new facility which will benefit so many people from patients to workers to families and a fantastic community to build it!'"
If you would like to write your own message of hope for Hope Ties Us Together, but aren't based at Tom Baker Cancer Centre or Foothills Medical Centre, you can email your message to Calgary.CancerCentre@ahs.ca — and the project team will happily write it and pin it to the fence on your behalf.