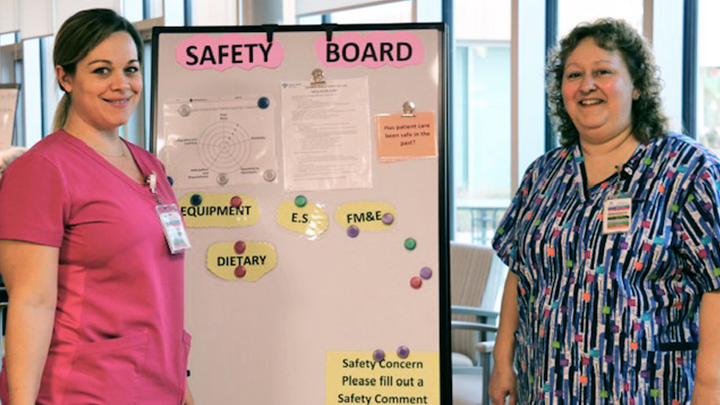 Health Care Aides Nicole Woods, left, and JoAnne Derouard pose by a patient safety board that shares safety news and invites comments from frontline staff on how to further improve safety at Edson Continuing Care Centre.
Canadian Patient Safety Week aims to create awareness and inspire improvement
Story by Colin Zak | Photo by Crystal Browne
EDSON — A simple conversation can have a big impact — and at Edson Continuing Care Centre, conversations are transforming their approach to patient safety.
The site is taking a new approach to engaging staff and getting them talking about what they can do to improve the quality and safety for patients and families.
"Our people on the frontlines are the ones who best understand the state of things and can share ways we can improve when it comes to safety of residents," says Crystal Browne, Director of Clinical Operations for North Zone.
"We're finding ways to encourage them to say something when they see an issue, and to take action now, and then bring ideas to leadership to prevent it from happening again. As leaders we're learning to listen and ask questions, moving from a state of 'knowing' to 'inquiry'."
It's all part of a grassroots approach to patient safety that's being spearheaded at three Seniors' health units in the province.
Measurement and Monitoring of Safety (MMS) is a project launched by the Canadian Patient Safety Institute's (CPSI). The project, sponsored by AHS Quality & Healthcare Improvement (QHI), is part of an 18-month learning collaborative which involves AHS Senior's Health as well as healthcare organizations across Canada.
In Edson, it all began with a poster contest to showcase common safety concerns. Staff were asked to spot the safety concern in various scenarios — falls, medication administration, communicable diseases and patient transfers, for example.
"Getting participation from our staff got them excited and eager to participate," says Browne. "We also created a Truth or Dare voting booth, asking staff to comment whether care is safe today and what we can do differently. This really gave a voice to staff who don't usually speak up."
In time, she adds, this will evolve to regular collaborative staff huddles focused on safety concerns for residents.
Along with Edson, Prince of Peace Retirement Residence and Cardston Healthcare Centre are also participating.
The MMS framework aims to build Quality Improvement activities into frontline teams — and help teams to drive patient-safety improvement locally.
"What makes this unique is that we work with frontline teams to build capabilities and empower them to make small changes that have big impact on patient safety," says Gregory Cummings, Chief Zone Officer, AHS North Zone. "We owe it to our patients to look into past harms and see how we can improve."
MMS takes a holistic approach to address patient-safety issues, looking closely at how to address past, present and future issues, including:
Has care been safe in the past?
Are our clinical systems and processes reliable?
Is care safe today?
Will care be safe in the future?
Are we responding and improving?
"What makes this work so unique is that it's led by teams on the frontlines. This allows them to directly impact work on the ground," says Lorraine Zimmermann, Provincial Patient Safety Specialist.
In Edson, for example, this has empowered Health Care Aides to develop a safety-check program and protocol for slings. It has also led to changes in the structure of conferences between patients and the healthcare team. Now, assessment data is used to ask residents and families what they believe might be behind the assessment outcomes — and how they think the healthcare team can address any concerns.
Zimmermann says that it's critical that AHS teams ensure our practices and procedures are evidence-based and meet national standards.
"But patient safety is more than just a check mark. Are we making care safer by fostering a culture of inquiry and improvement? Are we monitoring safety concerns on a daily basis, rather than at set times during the year?" she adds.
"The MMS framework not only supports the AHS Patient Safety Plan, it creates a just culture for all our people and is a real model of how patient safety starts with the ingenuity of our frontline teams."
Alberta Health Services is once again celebrating Canadian Patient Safety Week (Oct. 28–Nov.1), an annual campaign that aims to create awareness and helps inspire improvement in patient safety and quality.