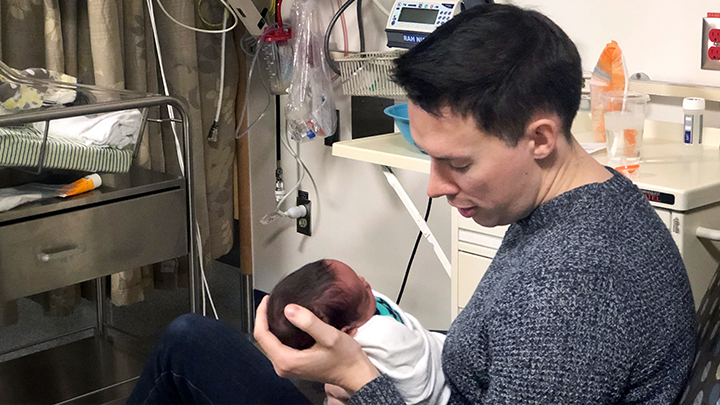 Tom Clapperton holds baby Ethan in the Stollery Neonatal Intensive Care Unit (NICU) at the Royal Alexandra Hospital. The NICView camera over Ethan's bed allows his family to watch him from anywhere in the world.
NICView cameras online 24/7 for families at Stollery unit at Royal Alex
Story & photo by Marni Kuhlmann
EDMONTON — Parents and families of critically ill infants now have the opportunity to watch their babies in real time, even when they can't be in the neonatal intensive care unit (NICU) in person.
NICView cameras are now available for every patient in the main neonatal intensive care unit of the Stollery Children's Hospital at the Royal Alexandra Hospital. The cameras are accessible 24 hours a day, seven days a week, to offer parents and families the chance to view their newborns from anywhere in the world on any device with Internet access.
When Tom Clapperton and Rommel Moseley's sons Joshua and Ethan were born prematurely, they were grateful for the NICView cameras.
"You just worry all the time in these situations. Being able to check in throughout the day provides those moments of reassurance," says Clapperton. "When we get a little nervous or want a little check, we just pull out our phones and make sure he's still there, still smiling, still happy and good."
The cameras enhance patient- and family-centred care by providing peace of mind and reassurance for parents and families when they can't be at the bedside.
Family members can securely access NICView from any Internet connection via laptop, smartphone or tablet, once the parents have been provided with log-in information and passwords.
"The NICView cameras have been very popular. On average, we've had about 9,000 log-ins per month since the cameras went live in June 2019," says Barb Henderson, a clinical nurse educator at Alberta Health Services.
"People have logged on from across Canada, USA, United Kingdom, Australia, Croatia, El Salvador, Columbia, Sweden, Spain, Netherlands, Hong Kong, India, Lebanon, Philippines, Barbados and Africa. It's a way for families to be connected, even if they can't be there."
The Stollery Children's Hospital Foundation funded the $245,000 project, including initial vendor implementation, cameras, hardware, IT costs and ongoing software and licensing costs. The unit has 72 cameras — the largest install in North America.
"Thanks to our donors, we're able to continue to fund and enhance family-centred care in spaces like the Stollery NICU at the Royal Alexandra Hospital," says Courtney Gillis, communications advisor for the Stollery Children's Hospital Foundation.
"With 39 per cent of patient visits to the Stollery coming from outside Edmonton, our investment in NICView means families from backyards across northern Alberta and beyond can stay connected to their newborn in critical care."
Beds at the Stollery NICU at the Sturgeon Community Hospital are also equipped with NICView cameras. Alberta Health Services and the Stollery Children's Hospital Foundation are exploring options to have NICView cameras installed at the David Schiff NICU at Stollery Children's Hospital when the newly renovated unit opens in 2021.