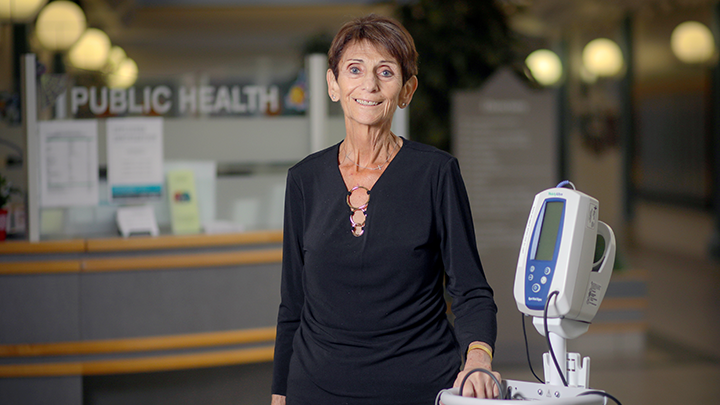 Margaret Trentham's devotion to patient care over a 50-year nursing career has been recognized with a long-service award in Central Zone.
Margaret Trentham's passion for healthcare recognized with long-service award
Story by Yolanda Genu | Photo by Leah Hennel
DRUMHELLER — Margaret Trentham's warmth and compassion shine brightly after half a century in healthcare.
"I have enjoyed being a nurse my whole life," says Trentham, recipient of a long-service award for her dedication to patients of all ages in Central Zone. "I love everything about it, right from when I was training."
It's easy to see that nursing is her calling. Her passion is evident in the way she never passes up a chance to help. Just the other day she got a phone call from a young mother asking for guidance on breastfeeding her newborn.
"I said absolutely I would come help, I didn't even have to think about it," says Trentham, adding that breastfeeding can be a daunting new process for a new mom, and it can take a long time to get a baby to nurse. She spent 90 minutes with the young mother and her infant, helping them along — and by the time she left, all was well.
Born in Crowsnest Pass and raised down the road in Bellevue, Trentham got her first taste of nursing at 16, when she stepped up to care for her ailing grandfather, and her mother's need to go to work outside the home, after her father's sudden passing when she was seven.
She recalls how, one evening as she fed him supper, he told her: "I will not be here long."
Sadly, he passed away that very night. Despite the pain of her loss, Trentham drew great satisfaction from caring for him, and knew then that she wanted to care for others as a career.
In the years afterward, she trained and earned her nursing licence at the Southern Alberta Institute of Technology and Calgary General Hospital.
Over her 50-year career, Trentham has witnessed remarkable innovations in healthcare, particularly when it comes to the use of ultrasound, computer axial tomography and magnetic resonance to create diagnostic images from within the body.
"Those were never seen before," she says.
Then came minimally invasive laparoscopic surgeries such as cholecystectomy, for example, where a doctor operates through the abdomen by making four or five tiny incisions, then inserts a camera in one of them to see the gall bladder, and removes it via the belly button. These and other surgical advancements have improved patient care and reduced time spent in hospital.
As a Licensed Practical Nurse, Trentham can now give medicine to patients as well as start and manage intravenous injections.
Earlier in her career, Trentham worked in three hospitals in Drumheller, mostly in maternity and surgery, and says she's grateful to have worked with wonderful doctors and staff.
Today, Trentham serves patients in Hanna and Drumheller as a homecare nurse in a casual position. She likes the idea of caring for folks in the comfort of their own home, where they're often surrounded by family, which can help with their healing.
"Homecare is beneficial because, whether patients are recovering or at the end-of-life, they love to be home, therefore reducing visits to the hospital," adds Trentham.
As she brings new memories and experiences to her incredible career, she says she'll carry on as long as she can.
Trentham freely admits she loves the people she serves as well as nursing.
She finds it particularly rewarding, and it also touches her heart, when patients tell her: "I'll never forget you", or "You were kind".