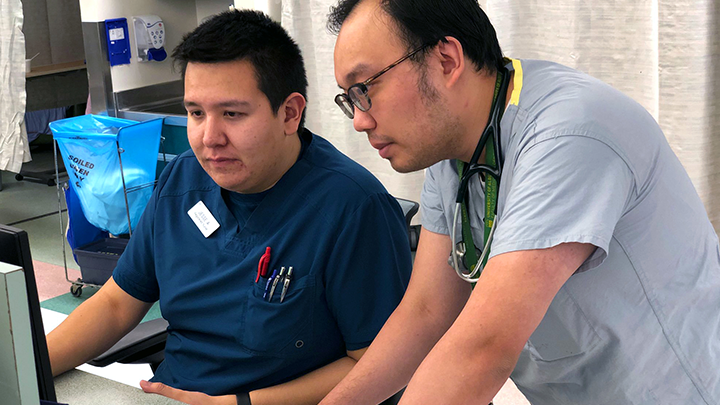 Emergency Department nurse Jesse Alook, left, and third-year resident Raymond Chu admit the first patient under the Connect Care system at 4:31 a.m. Sunday, Nov. 3 — launch day at the University of Alberta Hospital in Edmonton.
More than 20,000 Edmonton-area staff and physicians now online
Story by Suzy Thompson | Photo by Francis Silvaggio
EDMONTON — After years of planning and preparation, Connect Care launched in the wee hours on Sunday. With this first step, more than 20,000 Alberta Health Services (AHS) staff and physicians started using the Connect Care's clinical information system instead of the myriad health-record methods used previously.
The Nov. 3 launch is not only a milestone for the Connect Care program, but also a truly historic moment in the story of healthcare in Alberta.
"You should be very proud of what you've done to make this a reality," staff were told in a congratulatory launch-day message from Connect Care project sponsors — Deb Rhodes, Vice President, Corporate Services and Chief Financial Officer; Sean Chilton, Vice President, Health Professions and Practice; and Francois Belanger, Vice President, Quality and Chief Medical Officer.
"We know that the hard work isn't over yet and that there will be many challenges ahead. As Dr. (Verna) Yiu (AHS President and CEO) said, we are prepared to address them. You will continue to have support and resources alongside you, every step of the journey to come."
While Sunday's launch is a huge step forward, it's also one that was taken cautiously, due to the sheer magnitude of change it brings.
Rather than launch Connect Care across AHS provincewide all at once, the system was rolled out in only the first of its nine phases, referred to as waves. Wave 1 is primarily concentrated in Edmonton's Walter C. McKenzie health campus and laboratories, which includes the University of Alberta Hospital, Stollery Children's Hospital and Mazankowski Alberta Heart Institute, among others.
This succession of launches will take place over different regions of the province over the next three years, which gives IT developers the opportunity to fine-tune the system in practice, and also gives end users the same opportunity as they adapt to new workflows.
While it's still early days, the preparation and attention to setting up support options for staff appear to have made Sunday's launch and its accompanying "cutover" a relatively smooth and positive event. (Cutover is a term used to describe the moment a new software is engaged in the hours leading up to its "lift-off" declaration.)
Bryce Jones, an informatics manager, led cutover rehearsal for months in preparation for the launch. Jones and his colleagues rehearsed these critical hours five separate times between July and October, with each rehearsal taking four hours.
Jones likens his team's efforts to a symphony concert. Over early summer, they familiarized themselves with the script. In the months that followed, their rehearsals become more realistic, until their work peaked in the performance itself.
Given that their latest rehearsal was completed in October during the site's wireless outage — considered a worst-case scenario — participants got through it.
"You'd be hard-pressed to find a more difficult scenario," Jones says of the outage. "A rocket launch is dull by comparison."
"An army of committed clinical teams back-loaded the active patient data in under 48 hours," he says of the final hours before the system went live.
"The dedication and focus at getting this job done is a testament to the work done up front by the clinical team…. (And) the launch was on time, which is unusual for one of this size."